England finishes their disappointing World Cup campaign on a positive note with a victory against Pakistan.
Kolkata was buzzing with excitement for Diwali as two teams who had a difficult time in the World Cup faced off at the famous Eden Gardens. England secured a comfortable 93-run victory over Pakistan, although they may have preferred to be in the final instead.
Babar Azam's squad was highly likely to secure fifth place and this was essentially confirmed at the toss. Any slight chance of achieving a 287-run (or higher) margin to qualify for the semi-finals through net run rate disappeared when Jos Buttler won the toss and chose to bat first. The task of chasing a target to reach the top four was deemed nearly impossible according to calculations.
However, even as the match progressed, the 37,000 spectators in attendance were eager to kick off the holiday season and maintained an energetic atmosphere akin to a live competition. This was a stark contrast to England's first match against New Zealand in Ahmedabad, where Sachin Tendulkar, despite his revered status, walked out onto a nearly empty Indian cricket ground.
On the day when England's chances of keeping the trophy were greatly diminished, Tendulkar was seen holding it. Despite six weeks passing, they are now returning home in seventh place. Buttler downplayed the idea of a complete overhaul, but head coach Matthew Mott hinted at multiple changes. It's no surprise that Eoin Morgan, who is not currently playing, has questioned the messaging.
The triumph was accompanied by some speculation, especially regarding Ben Stokes' performance. After scoring a century against the Netherlands, he followed it up with an 84 off 76 balls. In the last 10 overs, there was chaos as 97 runs were scored and seven wickets were taken, resulting in a total of 337 for nine. If Stokes had not injured his hip in the gym upon arriving in India, causing him to miss the first three matches and struggle to get into form, it is possible that they could have achieved more than three wins out of nine, including two when they were already out of contention.
If England had played more warm-up cricket in Asian conditions before the big push, like semi-finalists Australia and New Zealand, their bowlers might have adapted to the conditions quicker. Unfortunately, they only hit their stride towards the end of the campaign, which was not enough to make a difference. In their last game in Kolkata, they managed to roll Pakistan for 244 all out with 39 balls remaining before saying goodbye to the tournament.
They were seldom in the hunt. David Willey reached 100 one-day international wickets in his final England appearance before retirement via figures of three for 56, with Abdullah Shafique lbw first ball, and the dangerous Fakhar Zaman chipping to mid-off for one, derailing things from the outset. Adil Rashid moved to 199 wickets, a couple of fizzing beauties bowling Saud Shakeel and Shadab Khan to undermine Pakistan's middle order.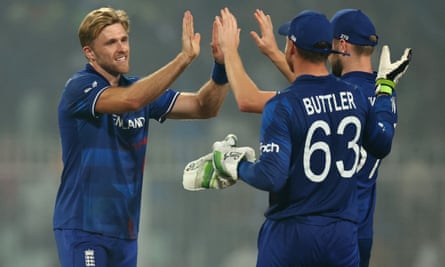 Maybe this recent improvement was just a result of not feeling any pressure. Maybe it was the encounter with Mick Jagger at the team hotel the night before, a person who is well-versed in delivering successful performances. There were glimpses of the traditional England team on that day; a strong opening partnership of 82 runs led by Jonny Bairstow's 59 and Ben Stokes replicating his iconic reverse-swept six from Headingley 2019. He and Joe Root, who scored 60 runs from 72 balls, set the foundation for a chaotic but effective late onslaught against two aging reverse-swinging balls.
Root was the initial English player to reach 1,000 runs in the World Cup, but his performance throughout the tour was uneven. Buttler, who has also been struggling with his game, managed to score 27 runs off 18 balls. He hit a six when Haris Rauf imitated Trent Boult's 2019 move by backpedaling onto the boundary at long-off. However, Rauf got his revenge when he made a remarkable direct hit from short third man, ending the brief appearance of the English skipper.
Stokes paid tribute to the past by displaying complete dominance until Shaheen Shah Afridi's superb yorker took out his off stump. This made up for Afridi's earlier mistake of dropping Stokes when he was at 10. However, the future was also evident in the form of Harry Brook, who selflessly scored 30 runs off 17 balls. Another promising player, Gus Atkinson, added to the team's success by claiming the important wicket of Babar, who was caught pulling to mid-wicket at 38, further weakening the opposing team's efforts.
Atkinson scored a goal near the end of the game and both new players gained valuable experience on this journey, despite its difficulties. However, there will be openings for others. Dawid Malan finished a successful season with a quick 31 runs, but at 36 years old, he anticipates being cut from the team. Moeen Ali, who took two wickets for 60 runs and caused Mohammad Rizwan to fall, aggressively bowled for 36 runs and may signal the end of his time in 50-over matches.
Chris Woakes, a fellow Brummie, may be questioning if he will be chosen for this format again. However, even if he isn't, his successful career in ODI's ended on a high note with his 31st World Cup wicket, surpassing Ian Botham's record for England. In the match, Woakes put out some late aggression from Mohammad Wasim Jr (16) and Rauf (35).
At this point, the large crowd had dispersed, possibly holding back their excitement knowing that unlike for the departing teams, there will be many celebrations in the days to come.
Source: theguardian.com