England dominates New Zealand to claim WXV championship and seek revenge for their defeat in the World Cup.
England emerged victorious in the first ever WXV championship, defeating New Zealand 33-12 in Auckland. Following a devastating defeat to the same team in the previous year's World Cup final, the Red Roses bounced back with a dominant performance in the newly established global tournament.
England had a strong beginning as Alex Matthews scored the first of five tries in the fourth minute. Shortly after, Lark Atkin-Davies added a second try. In the 23rd minute, Sarah Bern had a straightforward finish for a third try, and Ellie Kildunne's try was disallowed after video replays showed her foot was out of bounds before she crossed the line.
Before the first half ended, New Zealand scored their first try thanks to Kennedy Simon. In the 49th minute, Katelyn Vaha'akolo added another try, giving hope to the hosts for a comeback as they narrowed the score to 19-12.
However, Morwenna Talling concluded a period of England's offensive dominance with a fourth score, and Zoe Aldcroft solidified the win before Kildunne had another attempt disallowed.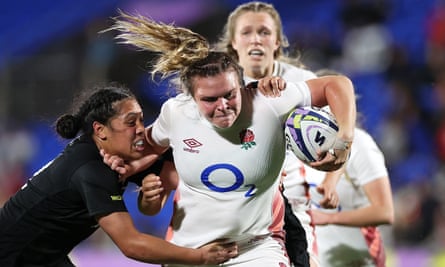 Following the game, Marlie Packer, the captain of England's team, was awarded the title of 2023 World Rugby women's 15s player of the year for her exceptional performances, which included scoring 11 tries, the most in the world. The dream team also featured seven other players from England: Atkin-Davies, Bern, Aldcroft, Matthews, Abby Dow, and Kildunne.
Louis Deacon, the temporary coach for England, expressed to the BBC his immense pride in the team's performance. He praised their growth throughout the competition and highlighted their exceptional performance on the day. He also mentioned that there is still a lot to accomplish and that they are at the start of their journey. The new coach, John Mitchell, has plans for the team and they are looking forward to improving even further under his guidance.
Source: theguardian.com