O
One of the most well-known images in cricket is of Bishan Singh Bedi preparing to bowl, with his feet crossed, right arm raised as if aiming at a target, and head turned over his leading shoulder, ready to release the ball. Despite his relaxed approach and delivery, Bedi was a skilled slow left-arm orthodox spinner, known for his deceptive and cunning throws.
Reworded: At any moment during Bedi's approach, a photograph would capture his poise and balance. Even with unlimited time, a sculptor could not create a more precise and simple movement.
Bedi retired with 266 wickets in 67 Test matches, the highest for an Indian player with an average of 28.71. During his 1967-1979 career, he amazed the cricket world with his deliveries, leaving batsmen in awe. The ball would appear to linger in the air before dropping and catching the batsman off guard.
Bedi, who passed away at the age of 77 after battling an illness for over two years and undergoing multiple surgeries that were unable to fully save him, was a great success.
Fans of English cricket from a specific era will recall that he achieved 434 wickets for Northamptonshire with an impressive average of 20.89. In total, Bedi had a remarkable 1,560 wickets in first-class matches.
In India, he was more than a skilled bowler. He was part of the renowned spin quartet, which included Bhagwat Chandrasekhar, a leg-spinner, and off-spinners Erapalli Prasanna and Srinivas Venkataraghavan.
Bedi was a unique player due to his intellectual approach to the game and his charming yet outspoken personality, making him the perfect choice to lead India as captain for 22 Test matches. This included the memorable victory of India in chasing down 403 runs against West Indies in Port of Spain, Trinidad, in 1975, a record that remained unbroken until 2003.
Bedi also gained a reputation for being a heroic advocate for various issues. In 1976, during a match at Sabina Park, he boldly ended India's first innings at 306 for six and their second at 97 for five, as he felt the West Indies fast bowlers were more focused on injuring India's lower order than actually getting them out.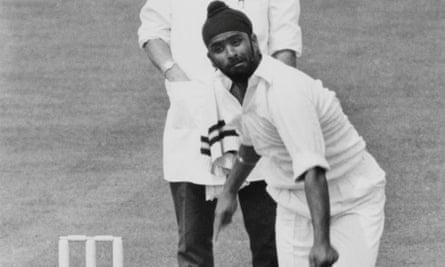 Soon after, he gave up a one-day international match against Pakistan in Sahiwal due to concerns about Sarfaraz Nawaz's excessive use of the bouncer. Another memorable incident was his objection to John Lever in Chennai in 1976, where Bedi suspected the Vaseline on Lever's forehead was being used to manipulate the ball instead of preventing sweat.
Even after retiring from playing, Bedi maintained his independence. He led Delhi's team to victory in the Ranji Trophy finals four times, defeating Karnataka led by Gundappa Vishwanath and Mumbai led by Sunil Gavaskar in 1978-79 and the following year. Due to his accomplishments, a stand at Ferozeshah Kotla stadium was named after him.
After the Delhi and District Cricket Administration changed the name of the stadium to honor Arun Jaitley, a well-known politician and cricket administrator, Bedi sent a request to the authorities to remove his name and cancel his membership.
Bedi was one of those rare cricketers who was a legend and inspiration to many but never thought he was bigger than the game or its fans. He was salt of the earth and occasionally his tendency to call a spade a bloody shovel made him powerful enemies. The cricket world has lost a towering figure who loved the game for life. And someone who spoke truth to power no matter what the consequences.
He was undoubtedly a talented bowler and a strong captain who always stood up for his teammates, even more so than a typical parent would for their children. However, above all, Bedi was a true cricket enthusiast who would go to great lengths to uphold the integrity of this beloved sport. He was one of the few remaining individuals of his kind, as they are becoming rare.
Source: theguardian.com