Bishan Bedi, who passed away at the age of 77, was a well-known and beloved figure in international cricket during the 1960s and 70s. He was known for his vibrant patkas and visually appealing bowling technique.
His smooth and effortless approach and graceful, upright throwing style produced an impressively high and curved trajectory for the ball, which was frequently captivating when paired with the significant spin produced by his fingers.
He was a top spin bowler and took 266 wickets in 67 Test matches for India from 1966 to 1979. When he retired, he had the most wickets among all Indian Test players. Currently, he ranks eighth on the list, below more recent bowlers who have played more matches. However, he is still fifth among the best left-arm spinners in Test cricket, behind Rangana Herath, Daniel Vettori, Derek Underwood, and Ravindra Jadeja.
In a time when spin bowling reigned supreme in India, Bedi worked successfully alongside three other skilled spin bowlers: Erapalli Prasanna, Srinivasaraghavan Venkataraghavan, and Bhagwath Chandrasekhar. This renowned quartet collectively contributed to 853 wickets in various matches, though they only played together once (against England at Edgbaston in 1967).
Apart from his responsibilities as a bowler, Bedi also served as captain of India in 22 instances. During his tenure, he won six matches, drew 11, and gained a reputation for not shying away from controversy.
During his time playing cricket in India, he represented Northern Punjab from 1961 to 1967 and later played for Delhi from 1968 to 1981. He was part of the team that won two Ranji Trophies. In England, he spent five successful years with Northamptonshire from 1972 to 1977. He played a crucial role in helping the team win their first major trophy, the Gillette Cup, in 1976 by taking three important wickets and scoring the winning runs. He retired with a total of 1,560 wickets in all first-class cricket, the highest number for any Indian player.
Bedi was born in Amritsar, the main city of the Sikh religion. At just 15 years old, he played for Northern Punjab, even though he had only started playing cricket a few years earlier. In 1966, he made his first appearance in an international match in Calcutta (now known as Kolkata), where he faced off against the West Indies in the second game of their three-match tour. He took the important wickets of Basil Butcher and Clive Lloyd, and in the following game in Madras (now Chennai), he took four more wickets in the second innings.
In 1969, he had his highest Test bowling achievement by getting seven for 98 in Kolkata against Australia. In that series, he took a total of 21 wickets with an average of 20.57. From then on, he maintained a high level of performance, achieving 25 wickets twice against England at home in 1972-73 and 1976-77, and 31 wickets in Australia in 1977-78.
Bedi had a strong skill in taking wickets, but his accuracy and control were equally impressive. This made it challenging for opposing batsmen to score against him. Throughout his career in Test matches, he only gave up an average of 2.14 runs per over. This is the lowest economy rate among all bowlers who have taken 200 or more Test wickets, and is only surpassed by Lance Gibbs, Richie Benaud, and Underwood.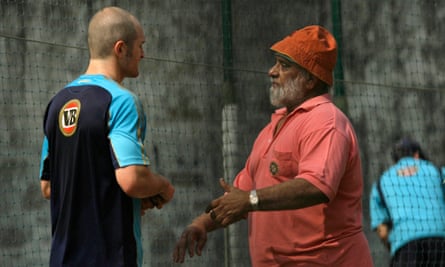 Assuming leadership in 1975, Bedi demonstrated his strong desire to win in the subsequent year by leading India to a thrilling victory against West Indies in the third Test in Trinidad. Despite facing a seemingly impossible target of 403, his team was able to successfully chase it down, a feat that many other teams would have deemed impossible.
In the last and concluding Test, he exhibited a readiness to take risks by deliberately not sending out his last five batsmen in the second innings as a protest against what he perceived as intimidating bowling. Similarly, in 1978, he gave up a one-day international match against Pakistan for a similar motive. He also had numerous conflicts with governing bodies regarding compensation and terms for his team members.
Bedi's final Test match was against England at the Oval in 1979. He then played for Delhi until 1981 before transitioning into coaching at the club and briefly with the Indian team. He also had some television appearances, but his main focus was on guiding young cricketers through his coaching camps and cricket school.
When not playing, he became even more vocal, making various claims about Sri Lankan player Muttiah Muralitharan's bowling technique being illegal, denouncing the Indian Premier League for its excessive focus on money, scolding the Indian cricket officials for their ties to the political elite, and harshly criticizing Prime Minister Narendra Modi's handling of Covid-19.
Even though his occasional angry outbursts caused controversy, he still maintained the overall support of the Indian people. They at least respected him for his independent thoughts and, above all, adored him for his impressive accomplishments in cricket.
His wife, Anju (formerly known as Inderjit), their daughter Neha and son Angad, and his son Gavasinder and daughter Gillinder from his previous marriage to Glenith Miles, which resulted in a divorce, are his surviving family members.
Source: theguardian.com