Australia narrowly defeats South Africa in an intense match, adding to South Africa's history of semi-final losses.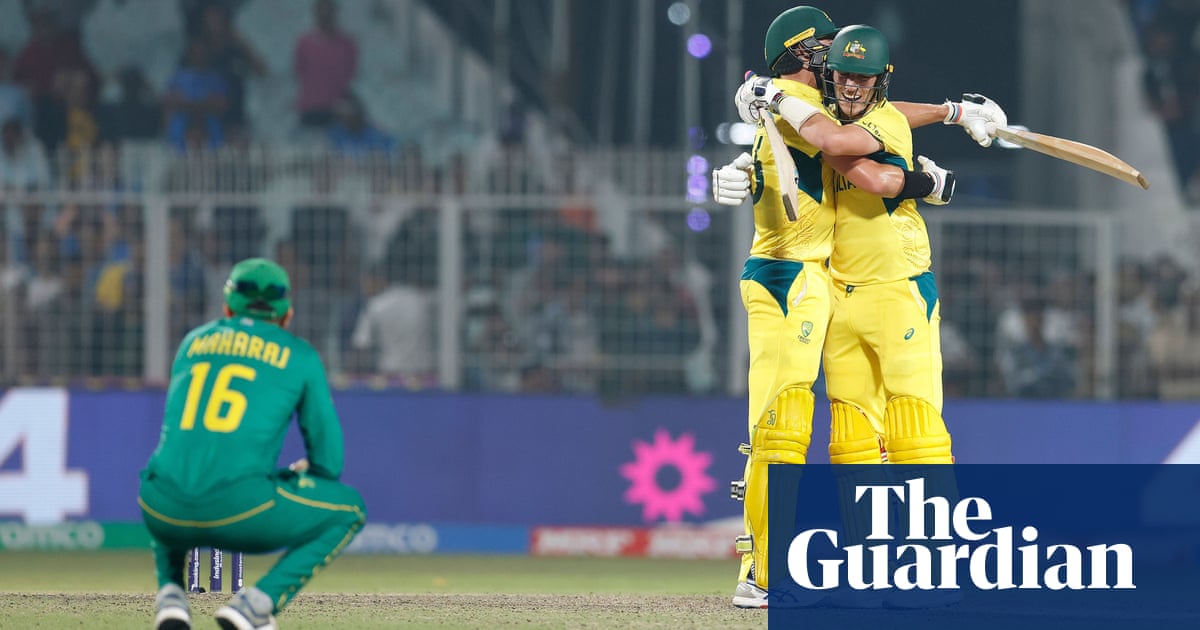 As Pat Cummins and Mitchell Starc embraced in relief, their strategic thinking in the lower order securing a spot in the World Cup final against India on Sunday, it was difficult not to sympathize with the South African team who once again fell short just before reaching the ultimate goal.
Australia's win by three wickets earned them the opportunity to face the undefeated hosts at the Modi mega-bowl in Ahmedabad. Despite a challenging, previously used pitch, Cummins and his team dominated with both batting and bowling, restricting their opponents to a score of 212 and successfully chasing it down with 16 balls remaining.
However, despite the end result, there were difficulties faced during this intense, stormy day-night match. A crowd of 48,000 local attendees, as well as some traveling fans, were treated to an exciting knockout game that will surely be remembered for a long time. Unfortunately, Temba Bavuma and his devastated team may want to forget this match.
The Proteas were devastated as Australia made an early impact and David Miller's impressive century helped give them a chance. Despite starting at a difficult 24 for four in the 12th over, Miller's 101 runs from 118 balls gave his team hope and brought back memories of the famous tied semi-final at Edgbaston in 1999, where both teams scored 213 runs.
However, despite their strong performance in bowling, successfully overcoming the batting efforts of Travis Head (62 runs from 48 balls) and David Warner (29 runs from 18 balls), and taking five more wickets through Tabraiz Shamsi's wrist-spin and Gerald Coetzee's pace, this marks South Africa's seventh loss in the semi-final stage of ODI and T20 World Cups.
The topic of choking was brought up once again, sparking a familiar debate. The team's coach, Rob Walter, firmly defended his team after their loss. "In my opinion, choking is when you lose a game that you had the opportunity to win," Walter stated at the press conference following the match. "We were at a disadvantage from the start. It cannot be considered a choke."
Experience seemed to have played a significant role on the day, with Australia having five members from the 2015 World Cup-winning team. Among them was Starc, who had a relatively subdued performance compared to his usual standards, but had an impressive three for 34 figures earlier in the game. He also remained composed and level-headed at the end, contributing to the final 20 runs with his captain.
The South African team was trapped in a canary yellow cage and could not escape, despite winning the toss. The pitch had been used before and both captains preferred to bat, but the weather conditions caused overcast skies and eventually enveloped the Proteas.
Despite two white Kookaburra balls and the coloured clothing, this was practically a Test-match battle out in the middle as Starc and Josh Hazlewood vaporised the top four and sent down 61 dot balls – the equivalent of 10 maidens. It took a previously aggressive South Africa side 52 balls to hit their first boundary, by which time Bavuma, Quinton de Kock, Rassie van der Dussen and Aiden Markram had departed.
One impressive moment during the game was when Cummins made a agile catch, causing De Kock to leave the field. As a result, Miller and Heinrich Klaasen, who are known for their strong batting abilities, had to patiently rebuild the team's score. They managed to score 84 runs before a rain delay and then continued with some powerful hits against Adam Zampa.
Cummins acknowledged the turn in the game and made a savvy decision to bring in Head's part-time spinners in the 31st over. This turned out to be a brilliant move, as Klaasen was dismissed for 44 by playing back to one of the deliveries. It was a tough day for Marco Jansen as he was out lbw on the first ball he faced. South Africa's situation worsened as they were now at 119 for six. Though there was no hat-trick, Head couldn't hide his joy with a big smile underneath his trucker mustache.
I applaud Miller for maintaining the competition, receiving assistance from Coetzee at the eighth position, and reaching his hundredth point by hitting a fifth six off Cummins. Unfortunately, there were some regrets for both players. Coetzee was dismissed for a caught behind on 19 due to a bouncer that barely touched his forearm, and Miller lost the ball after reaching his milestone in the 48th over.
They were not by themselves. Following Warner and Head's large contributions towards the goal, South Africa retaliated. Additionally, a spectacular catch by Van der Dussen at cover off Kagiso Rabada and the spinners posed difficulties. However, five challenging catches were missed and two reviews were used, weakening South Africa's efforts.
The towel was not thrown in yet. Shamsi eliminated Marnus Labuschagne and Glenn Maxwell, bringing the score to 137 for five. Coetzee did not give up, getting Steve Smith out for 30 and Josh Inglis, who is from Yorkshire, out for 28, causing some tension towards the end.
Starc and Cummins remained cool under pressure as they successfully scored the final 20 runs, leading Australia to their eighth appearance in the men's 50-over World Cup final. This victory puts them in contention for their sixth title. However, South Africa continues to struggle with reaching this milestone.
Source: theguardian.com