Antoine Dupont of France will not participate in the Six Nations tournament and will instead prioritize training for the Paris Olympics.
Antoine Dupont, the captain of France's rugby team, will not participate in next year's Six Nations tournament in order to focus on training for the 2024 Olympic Games in Paris where he will compete in rugby sevens.
The FFR informed AFP on Wednesday that Dupont will not be participating in the 15-a-side tournament, scheduled for February 2 to March 16, 2024. Instead, the 27-year-old will represent his country in the SVNS, formerly known as the World Rugby seven-a-side circuit.
Dupont, along with his club Toulouse and the FFR, will hold a joint press conference next Monday, which marks 250 days until the start of the Games. It is anticipated that they will officially announce Dupont's absence from the Six Nations and his decision to focus on training for a potential gold medal at the Olympic sevens event next summer as part of the host team.
The scrum-half, who experienced disappointment in France's Rugby World Cup journey with a tough loss to South Africa in the quarter-finals, will join the national sevens team in January. Dupont will participate in SVNS competitions in Vancouver, Canada on February 23-24 and in Los Angeles on March 2-3.
Dupont's absence from the Six Nations will force the France head coach, Fabien Galthié, to name a new captain and starting scrum-half for the tournament, which they start against Ireland in Paris on 2 February. France will also host Italy and England, with trips to Cardiff and Murrayfield also on their schedule.
In December 2022, Dupont expressed interest in participating in the event, which was first introduced at the Olympic Games in 2016. In an interview with RTL, Dupont shared that it is extremely motivating to see the level of excitement the event generates.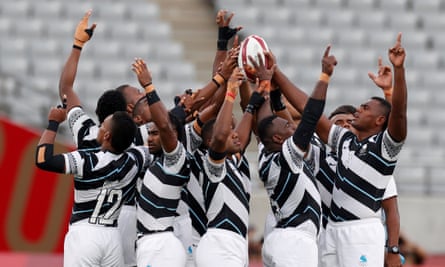 "I have a strong desire to arrange everything for my involvement," Dupont stated previously. "It will be a conversation among the various coaching staff." The men's and women's Olympic sevens tournaments for 2024 will take place at Stade de France in July.
Many top 15-a-side athletes have participated in previous Olympic Games, such as Cheslin Kolbe from South Africa and Sonny Bill Williams, who used to play for New Zealand as a center.
Since seven-a-side rugby was introduced to the Olympics, Fiji has been the victorious team in both men's gold medal matches. The longer version of the sport was last played in the Olympics in 1924. In the upcoming 2020 Olympics in Tokyo, France's men's rugby team did not qualify, and in the previous Olympics in 2016, they were defeated by Japan in the quarter-finals.
Source: theguardian.com