What does home care entail? Methods for assisting senior family members in the environment where they feel the most content.
There are no loopholes when it comes to aging. There are no miraculous remedies, no substitutes, and no choices available to mitigate the effects of the aging process. However, there is assistance available for those in need, even if all they require is a simple conversation over a cup of tea.
The most recent census data shows that the population of England and Wales is becoming increasingly older. In 2021, over 11 million individuals, accounting for 18.6% of the British population, were 65 years or older. This is an increase from 16.4% in 2011, during the last census.
In addition, a significant number of senior citizens reside on their own. According to Age UK, there are over 2 million individuals over the age of 75 living alone. This is often their preferred living arrangement – in the comfort of their own homes, surrounded by their personal belongings, and free from institutionalized care, allowing them to stay connected with their local communities.
According to a survey conducted in 2019 by Home Instead, a leading home care provider in the UK, among 2,000 individuals aged 65 and older, 21% admitted that leaving their home would be as distressing as experiencing a loss of a loved one. The survey also found that one of the reasons why people prefer to remain in their homes is the fear of their family members no longer visiting them if they were to leave.
The main concern is how individuals can manage to live independently, considering that even basic tasks can become more challenging, such as cooking a meal or remembering to take necessary medication that comes with aging.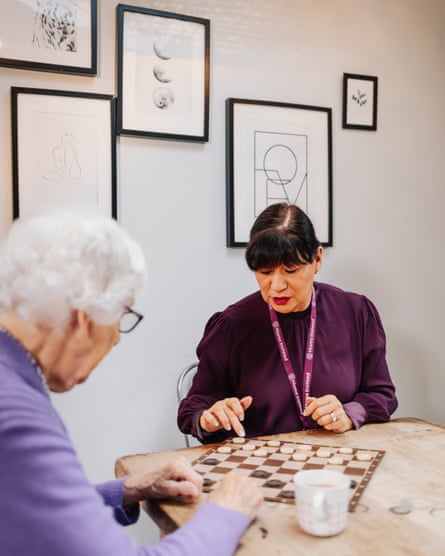 Based on the 2019 survey, it was discovered that a majority of the participants would rather continue living at home with a caregiver who visits, instead of relocating to live with family or moving into a care facility. The term "caregiver" can refer to a family member or friend who assists, or a trained professional employed by a home care agency. These agencies are mostly registered and should be overseen by an impartial organization, such as the Care Quality Commission in England, if they provide personal care services.
Home care encompasses a range of support services for older or sick individuals to help them with daily tasks such as getting out of bed, using the bathroom, getting dressed, and preparing meals. Even simple self-care tasks, which we often do without thinking, can become difficult when facing changing circumstances.
There are also larger responsibilities that may need to be taken care of, ranging from grocery shopping and household chores to attending doctor's appointments and managing finances. These tasks, and others, can be handled by a skilled caregiver who is employed by a company, such as Home Instead. In addition to assisting with daily tasks, home care may involve supporting individuals through significant life events, such as recovering from an illness or hospitalization, adjusting to a diagnosis of a condition like Parkinson's or dementia, managing declining vision or hearing, or maintaining mobility despite increasing frailty.
Hiring a professional to visit an elderly loved one can have multiple advantages. Not only does it provide assistance for the person in need, but it also eases the weight on family members who may be overwhelmed with caring for both their aging parents or relatives and younger family members.

Multigenerational carers
For women who become multigenerational carers (MGC), the situation can be especially challenging. A study conducted by Home Instead looked into how carers who are caught between taking care of older and younger family members handle their responsibilities. The study, which surveyed 2,000 people, revealed that women in this position experience more stress, exhaustion, and isolation compared to men. Being a MGC comes with intense pressures, with one-third feeling overwhelmed and over half (58%) reporting low self-esteem (this number increases to 63% for women).
According to the report, there is a significant gender disparity in the caregiving role within society. A large majority (88%) of individuals in male-dominated caregiving roles believe that women are primarily responsible for meeting caregiving needs, rather than men. The report also revealed that over half of those surveyed (59%) stated they lacked knowledge about the social care market and available support services.
Finding the appropriate home care services can provide crucial assistance, whether it is a brief daily or weekly visit, continuous care, or temporary relief. Home Instead consistently receives top ratings as one of the UK's premier care providers, based on positive feedback from customers, and 73% of its regional branches have received a rating of "good" or "outstanding" from the CQC. For those beginning their journey with care, Home Instead can connect them with other families who have utilized their services and hear firsthand how their situation has been positively impacted by choosing their exceptional care.
To learn more about how you or a loved one can maintain their quality of life, please visit homeinstead.co.uk/home-care-for-your-family.
Source: theguardian.com