The discovery of a massive tomb during an excavation in Orkney showcases an impressive engineering achievement from the Neolithic era.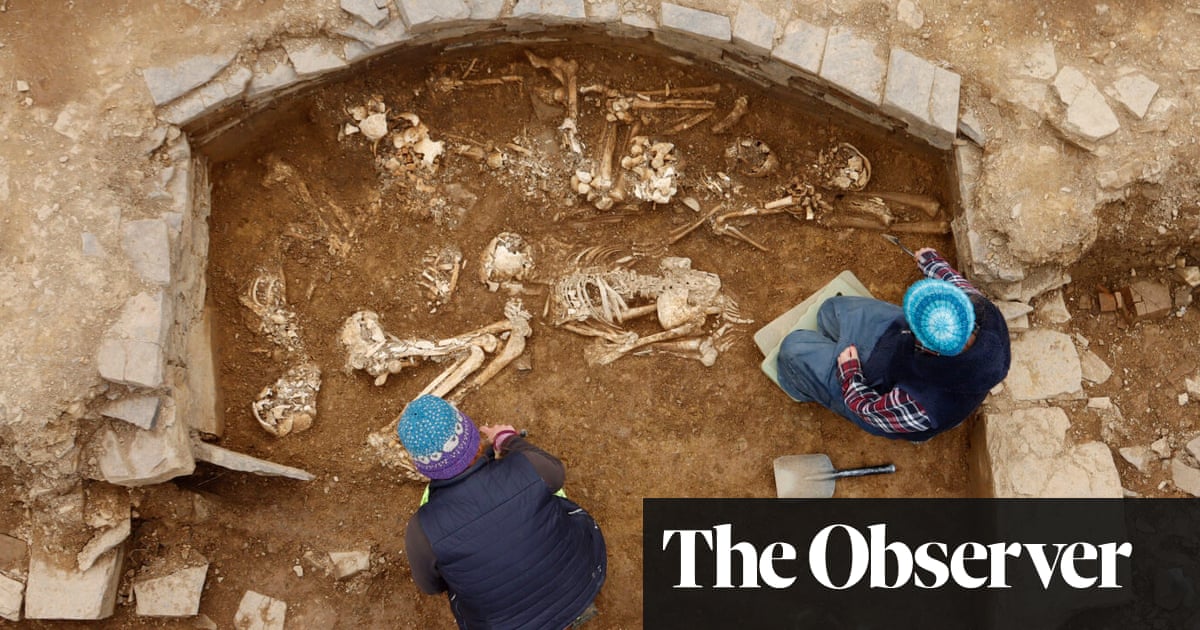 Archaeologists have discovered the remains of a tomb dating back 5,000 years in Orkney, which showcases advanced neolithic building techniques in northern Britain.
Fourteen complete sets of human remains, including men, women, and children, were discovered in one of six enclosed areas or adjacent chambers. Two of the skeletons were arranged in a position that suggested they were embracing.
The tomb is larger than 15 meters across and features a stone construction that can be reached by a lengthy passage of approximately seven meters. The excavation was led by Dr. Hugo Anderson-Whymark, a senior curator specializing in prehistoric (neolithic) artifacts at the National Museums Scotland, and Professor Vicki Cummings, an expert in neolithic archaeology from Cardiff University.
Anderson-Whymark described the immense thrill he felt when they began removing the topsoil and discovered the layout of the tomb. Its shape was circular with a rectangular chamber, and it was surrounded by six cells with curved backs. He noted that the interior was quite large, measuring seven to eight meters across. Not only did they find the tomb, but they also came across articulated skeletons in their original positions, which he described as the cherry on top.
The author observed that the method of corbelled construction consisted of gradually stacking stones to form cell chambers that became narrower as they reached higher heights. This technique was considered a remarkable feat of engineering. The tomb, when first built, would have been a prominent feature in the surrounding landscape and the stonework inside would have been incredibly impressive.
Until recently, the site had been neglected and left unrecorded. In the 18th and 19th centuries, the site was flattened and mostly destroyed when a nearby building was constructed using stone. However, this building was torn down approximately ten years ago.
In 1896, the son of a farmer continued to explore the ruins and found evidence of walls, a stone macehead, and a ball. Additionally, eight skeletons were also discovered. The discoveries were then reported in a nearby newspaper by James Walls Cursiter, an antiquary, who believed it to be a tomb in disrepair. However, he was not fully aware of its importance or age as he had only seen a portion of it.
Described then as a "chambered cairn", it received a mere couple of paragraphs, which Anderson-Whymark happened to spot during other research. It inspired him to track down the site. With the assistance of students from the University of Central Lancashire and local volunteers, a three-week excavation at Holm, East Mainland, unearthed evidence of a substantial cairn.
The majority of neolithic tombs in Orkney are still standing, but the Holm tomb was hidden under fields of lush green grass.
Anderson-Whymark stated that the Orkney region contains a wealth of archaeological sites, but the discovery of a tomb of this magnitude during a limited excavation was unexpected. It is astonishing to consider that this impressive monument was nearly forgotten without any documentation.
Cummings stated that it is highly uncommon to come across tomb deposits, even in well-preserved chambered tombs. These remains will provide new understanding into all aspects of the lives of these individuals.
A small design consisting of three lines and other scratches has been preserved on the back of one of the stones.
Using DNA analysis and additional investigations, it is now possible to uncover whether the buried individuals were connected and their relationship to other tombs in Orkney, potentially spanning multiple generations or centuries.
According to Anderson-Whymark, bodies were consistently being placed on top of each other, but it seems that this happened gradually over a span of time.
It is possible that a large stone was used to block the entrance, which would have allowed them to re-enter for a variety of activities and ceremonies in the main chamber.
The grave is estimated to have been constructed circa 3000 BC, during a time when nearby societies had been cultivating the land in Orkney for many generations. Their main activity was raising cattle, and to this day, the same field is still utilized for that purpose.
Source: theguardian.com