Charities are urging NHS England to reinstate Covid safety measures for employees.
Charities and organizations focused on healthcare are urging NHS England to reinstate Covid-19 safety measures for employees, citing concerns about potential harm to high-risk patients and medical personnel during the upcoming winter season.
Following the relaxation of Covid safety protocols earlier this year, employees of NHS England are no longer obligated to wear a mask while working in clinical environments. Additionally, most healthcare professionals who exhibit signs of a respiratory infection are no longer requested to undergo Covid testing.
In England, the number of individuals who have tested positive for COVID-19 increased by 30% during the seven-day period ending on September 30th, reaching a total of 16,000 cases. According to data from the government, hospitalizations also saw a 25% rise during this time, reaching 3,800 cases.
Various charities and groups, such as Blood Cancer UK, Anthony Nolan, Kidney Care UK, Mencap, Forgotten Lives UK, and Clinically Vulnerable Families, are advocating for patients to be able to ask staff to wear masks and for the return of symptomatic testing in all situations. Additionally, there are calls for asymptomatic testing for staff who come into close contact with patients who are at high risk of severe illness or death from the virus.
Individuals who are considered clinically vulnerable have reported being unable to receive necessary medical treatment due to the removal of protections in healthcare settings. Some have even encountered staff with symptoms of Covid-19 and no mask, despite expressing their vulnerability. GP surgeries and hospitals, where many clinically vulnerable individuals seek care, pose a high risk due to the potential for social mixing.
Mark Oakley, spokesperson for Forgotten Lives UK, stated that a difficult decision is being faced by many vulnerable individuals. They must choose between receiving necessary medical care and putting themselves at a higher risk of contracting coronavirus. This is especially concerning as these individuals should feel safe in these healthcare settings. According to Oakley, members of the organization have reported having to cancel or postpone their treatments, which has resulted in further health issues. He believes that there are simple and affordable measures that can be taken, such as wearing masks and frequent testing, to address this unequal access to healthcare. He also emphasized the importance of ensuring that no patient feels afraid to seek medical help at hospitals, GP surgeries, or vaccine centers.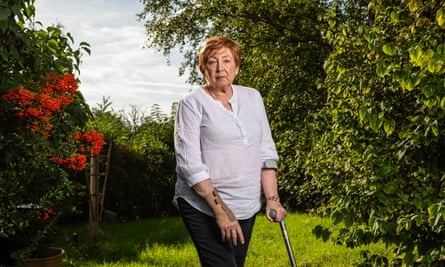 A study conducted by Forgotten Lives UK, which was only available to the Observer, revealed that 50% of individuals who are at high risk for health complications have cancelled a medical appointment due to worries about insufficient Covid safety measures. Additionally, over 25% have chosen not to receive a vaccine booster for the same concern.
Glynis Huskisson, who has a weakened immune system due to a kidney transplant and chronic obstructive pulmonary disease, has not developed enough antibodies from the vaccine. Her consultant has advised her to do everything possible to avoid contracting Covid-19. However, her healthcare providers do not consistently wear masks or test for the virus.
The individual, who is 70 years old, requires a hip replacement and surgery to address nerve damage. Unfortunately, she has delayed both procedures due to inadequate precautions. As a result, she is constantly experiencing discomfort. Additionally, she needs surgery for an enlarged thyroid, but does not feel confident in proceeding with the operation. She explained, "It is expanding and causing pressure on my windpipe. I feel isolated and let down."
Andrew Jennings is a senior nurse employed by the NHS who expresses fear over the current situation. According to him, they are instructed not to conduct self-testing and would have to purchase their own equipment. Additionally, they are advised not to wear masks in most circumstances, which he finds tiring.
Jennings' immune system is weakened due to the medications he takes for multiple sclerosis. He has contracted Covid twice while at work and was so ill that he required antiviral treatment and took several weeks off. This month, he discovered that the NHS staff in his trust will not be receiving booster shots on-site, which makes it difficult for them to take time off work to get vaccinated elsewhere.
He expressed that he feels just as unsafe at work now as he did during the peak of the pandemic. During that time, people were regularly getting tested, wearing masks, and isolating if they showed symptoms. Laura Challinor, the senior policy and public affairs manager at Blood Cancer UK, stated that the organization would like to see an increase in Covid testing in medical environments. She noted that earlier this year, testing for those with symptoms in hospitals was significantly reduced. As we enter the fall season with increasing Covid cases and the possibility of a new variant, routine testing in healthcare settings should be reinstated to monitor and minimize the risk for individuals with compromised immune systems.
The National Health Service stated that, although the decision to require masks may vary by location and risk assessment, it is strongly advised for staff to wear face masks when treating patients with Covid-19. In addition, there is also a recommendation for universal mask-wearing in environments where patients are highly susceptible to infection due to weakened immune systems.
The name has been altered.
Source: theguardian.com