Archaeologists have discovered vibrant walls and hearths from a London workhouse.
For 200 years, the building was small, crowded, and unpleasant due to bugs. But, when the St Pancras workhouse was established in 1809, it was intended to provide solace to those facing difficulties. Recently, excavations at the site have uncovered this information.
Researchers from Mola (Museum of London Archaeology) were surprised to discover a considerable portion of the original structures, revealing remarkable new insights into the daily lives of those who inhabited and owned them.
According to Gwilym Williams, a project manager at Mola, the evidence presents a contrasting image to the commonly portrayed dark and gloomy workhouses in popular culture, as seen in the works of Charles Dickens.
Not much was previously known about the structure other than its appearance on parish maps. However, upon excavation, archaeologists discovered walls up to one meter tall, adorned with vibrant plaster, as well as fireplaces that were once used to heat the interior spaces.
The findings provide understanding into the workhouses that were set up in the early 19th century to assist the impoverished.
Although prisoners were provided with housing and basic meals, they were discouraged from exploiting the state by being required to perform physically demanding and monotonous tasks, such as picking oakum and breaking stones.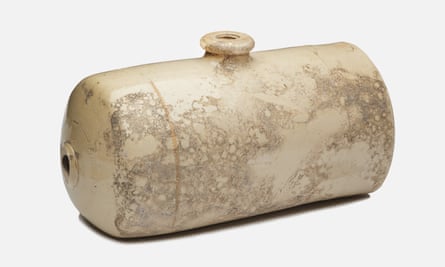 New findings indicate that the St Pancras workhouse may have initially prioritized providing support rather than punishment. Williams stated that, although the conditions were simple, the inmates were not intended to be disciplined. The workhouse also had gardens, an infirmary, and a nursery, showing consideration for the inmates' needs, in addition to heated rooms and pale blue walls.
The discoveries consist of items used in institutions, such as plates decorated with an image of St Pancras and the phrase "Guardians of the Poor St Pancras Middlesex," as well as a toothbrush made from bone and horsehair, indicating the significance of cleanliness.
The building constructed in 1809 was designed to accommodate 500 prisoners. However, by the 1850s, the population had increased drastically to 1,900 individuals. A study conducted in 1865 by the medical journal the Lancet on workhouse infirmaries in London noted that the overcrowding was leading to unhealthy conditions in the wards.
Williams proposed that the potential settings in Oliver Twist could be the same as those described by Ruth Richardson in her book Dickens and the Workhouse, published in 2012. Richardson's investigation revealed that the Cleveland Street workhouse and its surrounding community may have served as sources of inspiration for Dickens.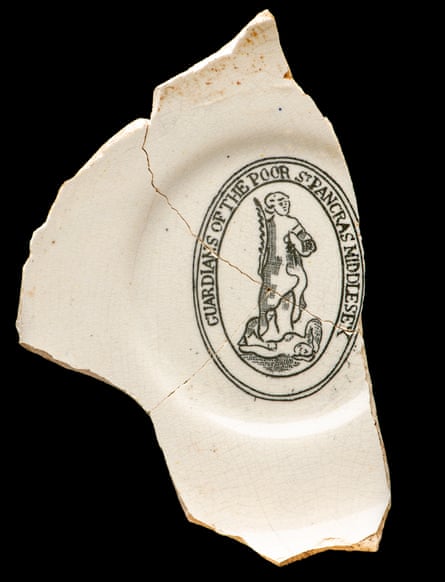 According to Peter Higginbotham, a historian of workhouses, Robert Blincoe, who may have inspired the character Oliver Twist in Dickens' novel, was a child resident of a workhouse that was both cramped and infested with bugs. In addition to receiving basic education, Blincoe and other residents were often required to work for over 12 hours a day, performing the unpleasant task of picking oakum.
According to Dr. Leon Litvack, the lead editor of the Charles Dickens Letters Project, the name of Dickens is often linked to the darker aspects of Victorian society, which both intrigue and repel us. One example of this is his connection to workhouses. As seen in his novels like Oliver Twist and Our Mutual Friend, Dickens was passionate about exposing the harsh conditions in many workhouses across the country. However, in his fictional works, he often tones down and cleans up these descriptions in order to not offend his loyal readers. On the other hand, his journalism was much more direct and vivid, as he would include explicit details based on his personal observations.
According to him, although Charles Dickens did not personally write about St Pancras Workhouse, his colleague Henry Morley did in a 1861 article called "The Frozen Out Poor Law." Dickens provided Morley with a description of a female pauper who was waiting in the harsh cold outside St Pancras Workhouse for her ration of bread. The conditions at the workhouse were so unfavorable that it discouraged many of the poor from even attempting to get their bread.
In 1929, the St Pancras workhouse was transformed into St Pancras hospital. During World War II, part of the hospital was damaged by bombing and some of the workhouse structures were demolished.
Archaeologists have dug up these locations in preparation for the building of Oriel, a facility dedicated to eye care, research, and education. This project is a collaboration between Moorfields Eye Hospital NHS Foundation Trust, UCL Institute of Ophthalmology, and Moorfields Eye Charity.
Litvack stated that it is both ironic and uplifting that a site where mistreatment occurred will now become a modern eye care facility. The hope is that this center will provide better care for its patients than what was seen over 160 years ago.
Source: theguardian.com