"Tonight's TV program: uncovering the truth about the deportation of children from Ukraine."
Updates: Pursuing the Abducted Children of Ukraine
11.05pm, Channel 4
According to Olena Zelenska in this week's Dispatches, Ukraine requires assistance from the global community in locating the numerous children who were forcibly removed and indoctrinated. The film documents the team's efforts to gather evidence against Vladimir Putin and includes an interview with a 15-year-old boy who was taken from his school by soldiers and sent to a correctional boarding school in Russia. Hollie Richardson.
Between the Covers
7pm, BBC Two
Actor (and returning show favourite) Adrian Edmondson, DJ turned novelist Annie Macmanus, and comedians Angela Barnes and Chris McCausland are this week's book clubbers. They delve into Laura Shepherd-Robinson's historical thriller The Square of Sevens (not everyone is a fan) and Roddy Doyle's Booker prize winner Paddy Clarke Ha Ha Ha. HR
Shakespeare's Ascent to Brilliance
9pm, BBC Two
The documentary-drama follows the life of William Shakespeare, focusing on 1596 when he was recognized as the most accomplished playwright in London. However, Shakespeare was not content with his success and aimed to reach the upper class by building a new theatre. The story is narrated by Adrian Lester and Martin Freeman.
The Playboy Bunny Murder
9pm, ITV1
In 1975, 21-year-old Eve Stratford, who worked as a Playboy bunny, was murdered in London. In this two-part documentary (which concludes on Tuesday), Marcel Theroux says two subsequent murders of women could be connected. He talks to Eve's boyfriend at the time, who was briefly a suspect, and a former fellow bunny, who is furious that people "were trying to make out that she was doing something untoward to get murdered". HR
Grime Kids
10pm, BBC Three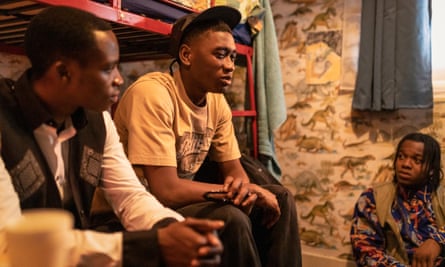 eworded:
A thrilling five-part series about the journey to adulthood, following a group of teenagers from east London as they strive to make it big in the UK garage scene during their final summer before adulthood. Set in 2001, the first episode sees Dane, Junior, Kai, Bishop and Bayo attempting to sneak into the most anticipated club night of the year.
Big Zuu's Big Eats
10pm, Dave
Nabil Abdulrashid, the comedian who reached the final on Britain's Got Talent but was eliminated from Celebrity MasterChef, meets his enthusiastic match in the lively presenter. The two connect over their love for Malaysian and Nigerian cuisine, while Hyder impresses them with a risky yet delicious slow-cooked Kurdish dish. Graeme Virtue
Source: theguardian.com