Tonight's TV lineup features the highly anticipated finale of the acclaimed series Ghosts.
Ghosts 8.30pm, BBC One
As the finale draws near, Ghosts is gracefully delving into profound topics. This week, the idea of eternity is highlighted as Mike and Alison's earthly concerns take precedence while the ghosts' become insignificant. As the owners give a tour of the property to potential buyers, the ghosts are left feeling uninterested. However, they decide to entertain themselves by putting on their own rendition of Blankety Blank. This clever and heartwarming moment also holds a deeper meaning. Phil Harrison
"Unreported World" uncovers the illegal trade of exotic pets in Mexico.
7.30pm, Channel 4
ILIPPINES
The fascination with owning exotic pets, such as tigers and snakes, has grown among the wealthy in Mexico. While having a semi-domesticated lion may be a great topic of conversation at dinner parties, there are concerns regarding safety, legality, and animal well-being associated with this trend. Anja Popp delves into the issue in the Philippines.
Do I Have News for You
9pm, BBC One
Jack Dee reaches the milestone of 20 episodes as host in this edition of the topical panel show. He's joined by guests including comedian Emmanuel Sonubi as they discuss current affairs that could certainly benefit from the kind of laughs in which this programme specialises. Alexi Duggins
Uncanny
9pm, BBC Two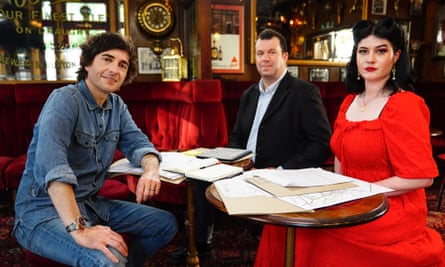 In the last episode of this podcast series, Danny Robins examines a supernatural situation involving student housing. Three decades ago, a student named Heather and her two friends moved into a house that was rumored to be haunted. With the help of his team of parapsychologists, Danny delves into the mystery and tries to provide a logical explanation. Ellen E Jones
Billions
9pm, Sky Atlantic
The satirical comedy-drama about the cutthroat realm of large financial institutions reaches its conclusion with tensions rising. The reappearance of Damian Lewis as Axelrod has injected new energy into the last season; he is now back in the United States, getting ready to face off against Chuck (Paul Giamatti) and Prince (Corey Stoll). PH
Picasso: The Legacy
9.40pm, PBS America
50 years after his passing, this portrayal of Pablo Picasso showcases insights from loved ones and acquaintances to shed light on his artwork, romantic relationships, and parenthood. Those close to him speak about his boundless vigor and passion as an artist who embraced each day with fervor, often staying up all night to create his masterpieces.
Live sport
English Football League: Crystal Palace vs Tottenham, 7pm, Sky Sports Main Event at Selhurst Park (game starts at 8pm).
Source: theguardian.com