Tonight's television program features Angela Rippon performing an emotional pasodoble to a beloved Madonna song.
Strictly Come Dancing 6.05pm, BBC One
Can you believe that Angela Rippon performed a pasodoble to Madonna's hit song, "Hung Up"? And Annabel Croft danced a samba to Shakira's "Whenever, Wherever"? Layton Williams even took on an Argentine tango to Loreen's "Tattoo"! It's a yes, yes, and yes from me! The other couples will definitely want to avoid being eliminated before the highly-anticipated Blackpool week. – Hollie Richardson
Survivor
7.25pm, BBC One
As this entertaining yet silly competition in a tropical setting progresses, the strategic plotting intensifies. We're moving away from eliminating weaker participants and into a phase where contestants must eliminate their rivals. This week, they engage in a duel using pugil sticks reminiscent of Gladiators. Things get messy. Phil Harrison
The Voice UK
7.25pm, ITV1
We have reached the second round of the competition, where the contestants must face nerve-wracking callbacks. Among those hoping to make it through are Jen and Liv from Newcastle, as well as Liam Palmer, a 19-year-old student and supermarket worker from Bristol who also knows how to stack fruit. Will the audience be impressed by his honey-toned rendition of John Mayer's XO? Additionally, Emma Willis will switch seats with will.i.am. by Ali Catterall.
Blankety Blank
8.25pm, BBC One
Alison Hammond is a dependable source of entertainment, so anticipate her unique brand of chaos as she assists in completing the missing pieces. Joining her this week are Josh Widdicombe, Deborah Meaden, Russell Kane, Libby Clegg, and Richie Anderson, all competing to win money for the contestants. HR
"Remembrance Festival of the Royal British Legion in 2023"
9pm, BBC One
Clare Balding hosts the annual Royal Albert Hall show honouring those killed in armed conflicts, with King Charles, Queen Camilla and military personnel past and present in the audience. The varied musical bill includes Mica Paris, Alfie Boe and Colin Thackery, the veteran of the Korean war who won Britain's Got Talent in 2019. Graeme Virtue
Afterwards, on Jools Holland's show
9.55pm, BBC Two
This weekend, there will be a live music event commemorating the 75th anniversary of the arrival of the Windrush generation. The event will feature a film about Michael "Bammi" Rose, a Jamaican who came to the UK in 1962 and later became a member of the bands Cymande and Aswad. He is currently a part of Jools's Rhythm & Blues Orchestra. The performances will include Róisín Murphy, Nitin Sawhney, Tom Walker, and Yussef Dayes. Suggs will also discuss Madness's first new album in seven years.
Film choice
The Killer, Netflix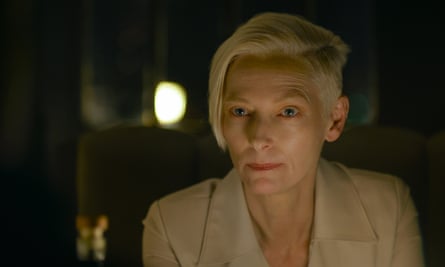 David Fincher's latest movie is a stylish crime drama that revels in the precise and calculated world of contract killers. The film follows the protagonist, played by Michael Fassbender, as he navigates through the tools and tactics of his job – sniper rifles, fake identities, and safe houses in every city. Despite his usually stoic demeanor, the killer's routine is constantly threatened by the unpredictable nature of his work. Moments of raw emotion arise when his Dominican housekeeper is assaulted, and the use of Smiths songs in the soundtrack adds a darkly humorous tone to the story. Overall, it is a thrilling and well-crafted tale. Comment by Simon Wardell.
The movie "Planet of the Apes" will be airing at 2:50pm on BBC Two.
Franklin J Schaffner's 1968 film, with its epic conclusion, is considered one of the best in the sci-fi genre. It successfully combines themes of human and animal rights with exciting action and is suitable for all ages. The protagonist, astronaut Taylor (played by Charlton Heston), is stranded on a planet where apes have taken over and oppress humans. He joins forces with Zira (Kim Hunter) and Cornelius (Roddy McDowall), two apes who support the resistance against their oppressive society. The impressive makeup helps to immerse us in this world, and Heston's performance as the determined protagonist is commendable.
Live sport
The Cricket World Cup match between England and Pakistan will take place at 8am on Sky Sports Main Event. This will be the last group match for both teams at Eden Gardens.
The Wolves and Tottenham will face off in a Premier League Football match at 11am on TNT Sports 1, held at Molineux. Later at 5pm, Bournemouth will take on Newcastle in a match broadcasted on Sky Sports Main Event.
The Premiership Rugby Union match between Leicester Tigers and Harlequins will be aired at 3pm on TNT Sports 1 from Welford Road Stadium.
On day two of the fourth round of the UCI Track Champions League, tune in to Eurosport 1 at 6pm to catch the cycling action at London's Lee Valley Velopark.
Source: theguardian.com