Tonight's television lineup features the highly anticipated return of Anna Torv in the sophisticated drama The Newsreader.
The Newsreader 9pm, BBC Two
Anna Torv returns in the second season of a sophisticated Australian newsroom series, set in 1987 during a national election. The news anchors, Helen (played by Torv) and Dale (Sam Reid), who are also a couple in real life, face the challenge of filling six hours of live coverage on election night. This task becomes even more daunting when a former colleague reappears on a competing network.
Stacey Dooley explores the world of Undertakers in her latest documentary.
9pm, BBC One
Dooley believes that death is incredibly frightening. As a result, she has made the decision to confront this fear by spending time at a family-operated undertaker in Nottingham. Will witnessing the process of death and contemplating her own funeral assist her in accepting the unavoidable?
Taskmaster
9pm, Channel 4
We are now moving on to the 16th series of a comedic competition show that seems to never have a dull episode. This group of participants exudes a playful and mischievous energy. Memorable moments include Sue Perkins imitating a lion with her head movements, and chaos ensues when a secret task and a unique hat are introduced. – Jack Seale
Cobra: Rebellion
9pm, Sky Max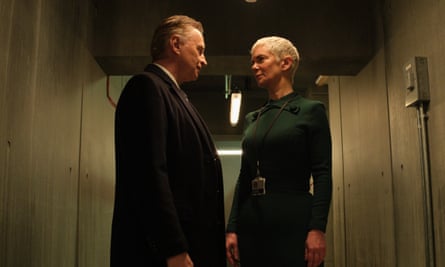 "PM Robert Sutherland faces a grave situation in the ongoing political thriller as a 0.5-inch "smart mortar" becomes a threat. Traumatized by Dan Goddard (Anthony Flanagan), a group of disgruntled former soldiers are demanding ransom and threatening to launch an attack. As Cobra deliberates, Bob refuses to give in, until a warning shot is fired, increasing the urgency of the situation." – Ali Catterall
Hullraisers
10pm, Channel 4
"The comedy by Lucy Beaumont, Caroline Moran, and Anne-Marie O'Connor follows the lives of three women in their thirties living in Hull. In the latest season, they tackle sensitive topics like miscarriage, menopause, and failure with a blend of wit and emotion. Toni can't stop thinking about her mother-in-law's new partner, Rana fears becoming invisible, and Paula is constantly working on DIY projects."
Brassic
10pm, Sky Max
This particular episode may initially appear crude, but it actually has a more subtle approach. It centers around the endearing but foolish character, Cardi, attempting to take a rabbit from a golf club raffle. Amidst this plot, there is also a sharp critique of Cardi's passive marriage to his assertive wife, Carol. The climax of the episode is marked by Carol breaking into song, which surprisingly fits well with the story.
Source: theguardian.com