Tonight on TV, Kirstie and Phil are back to tackle the challenging housing market in the UK.
Location, Location, Location 8pm, Channel 4
Given the current state of housing in Britain, it's difficult to imagine that this aspirational show is still in production. However, as a new season starts, Kirstie Allsopp and Phil Spencer would likely argue that it is even more necessary than before. The exorbitant prices of housing are immediately addressed, and the focus shifts to Natalie and Glen's search for affordable options in Torquay, while Amy explores Devon. It's a well-crafted presentation with an underlying discomfort. – Phil Harrison
The Big Bed-Bug Invasion
8pm, Channel 5
No one desires to come across a bedbug, yet there is a lot of discussion about them. This fast-paced documentary explores common misconceptions and offers solutions to prevent an infestation as more of these pests make their way from France. By Jack Seale.
DNA Family Secrets
9pm, BBC Two
.
Stacey Dooley delves into more genealogical inquiries in her latest documentary. This time, she follows the stories of three individuals: a group of siblings searching for a half-sibling who may have been born in Germany after World War II, and a woman with disabilities who was adopted and is now seeking to connect with her biological family. The documentary is directed by Alexi Duggins.
Payback
9pm, ITV1
Lexie, portrayed by Morven Christie, utilizes a satellite navigation system to track the final activities of her deceased spouse, with unfavorable results. While the authorities continue to probe his homicide, they also uncover additional unwanted proof of his unfaithfulness, causing further distress for Lexie. However, her current predicament must be put on hold as Cal, played by Peter Mullan, demands repayment. This information was shared by Ellen E Jones.
Cannot reword. This is the title of a movie about a women's baseball league during World War II.
9pm, Sky Max
RASE
The 18th season of the quiz with a casual sports theme is back, now featuring Jill Scott as a captain. Jamie Redknapp, Romesh Ranganathan, and Micah Richards are still part of the panel. Special guests on the show include Gareth Bale and Katherine Ryan.
Dark Winds
9pm, Alibi
The suspenseful story progresses and Leaphorn (played by Zahn McClarnon) remains a tense link between the Native American population and the American government. The investigators question individuals who may have seen the crimes take place and a surprisingly upbeat family of vacationers becomes involved.
Film choice
Milli Vanilli (Luke Korem, 2023), Paramount+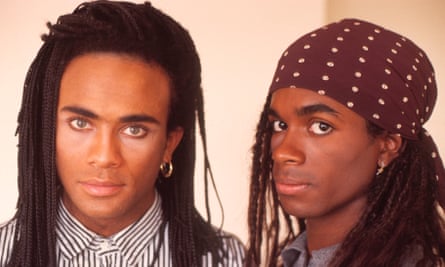 The truth about the Grammy-winning pop duo Milli Vanilli is brought to light in Luke Korem's cautionary documentary. In 1990, it was revealed that the Franco-German duo, made up of dancers and singers Robert "Rob" Pilatus and Fabrice "Fab" Morvan, had been lip-syncing on all of their records. They had been manipulated by Boney M svengali Frank Farian into being the face of his new hit-making project. Fab admits, "We embraced the lie," but the film delves into the toll it took on the duo as they became international stars and the backlash they faced after being exposed. This story sheds light on the shady practices of the music industry and also touches on issues of race. Simon Wardell
"Titane", directed by Julia Ducournau in 2021, will be airing on Film4 at 10:50pm.
Alexia (Agathe Rousselle), a young dancer with a plate in her head after a childhood road accident, murders a persistent male fan, is impregnated by a car then, on the run after further killings, poses as the long-lost son of fire chief Vincent (Vincent Lindon). Julia Ducournau's provocative, Cronenberg-influenced horror doesn't get any less bizarre after that, as the gender-fluid Alexia's intrusion into the hyper-masculine environment of the fire station provokes and disrupts. SW
At 10 minutes past 1am, tune in to Film4 to watch The House of Mirth, directed by Terence Davies in the year 2000.
itch notifications
Unfortunately, there are now very few examples of Terence Davies' powerful work in film due to his passing. However, this week, Film4 will be airing two of his films: The Deep Blue Sea from 2011, which is an adaptation of Terence Rattigan's work, and a beautifully crafted version of Edith Wharton's novel from 2000. In this film, Gillian Anderson delivers one of her most remarkable performances as Lily, a wealthy woman in early 1900s New York who is vulnerable to the advances of manipulative men due to her unmarried status and financial struggles. As she tries to maintain her dignity in a society that limits her options, her story is truly heart-wrenching. Please switch your notifications.
Live sport
The Young Boys and Manchester City will face off in a Champions League football match at 7:45pm on TNT Sports 1. Additionally, TNT Sports 2 will broadcast the Newcastle and Borussia Dortmund game starting at 7pm.
Source: theguardian.com