This review of Boy George's Karma is loud, vainglorious, and highly amusing.
I
In what could be one of the most enjoyable music autobiographies since Elton John's "Me," Boy George's "Karma" takes readers on a winding journey through decades of fame, achievement, downfall, and ultimately, a reflective peace in his 62nd year. The book's rambling nature, biting humor, and occasional eccentricity only add to its genuine feel. It's a portrait of George O'Dowd in all his chaotic and fascinating complexity.
This is not his initial autobiography, but rather his third. His previous works, 1995's "Take It Like a Man" and 2007's "Straight", were both praised for their unfiltered honesty as they chronicled the story of a young future pop star from south London, raised in a boisterous Irish household during the 1970s. This was a time when being openly gay, like George, required courage and resilience to stand up against discrimination.
It may be unexpected, but it's not entirely surprising that Karma, at first, follows similar themes. Singers have always been drawn to covering songs. The anecdotes shared in the past are retold here. For instance, George points out that Culture Club consisted of "three straight boys against the crazy queen", allowing him to once again criticize his former bandmates who have developed thick skin over the years. In particular, he mentions drummer Jon Moss (who sued for lost earnings after being forced out of the group in 2018), with whom George had a tumultuous relationship. "He enjoyed it when I gave him fierce looks," he notes, adding, "yeah right, platonic!"
Even though he claims that Karma allows him to demonstrate his personal growth, it also solidifies his identity as the person he has always been: holding grudges and never fully forgiving any slight. For example, when he attends a club where Madonna is present, she ignores him. And when Sam Smith moves into the neighborhood and excludes George from his parties, George sees it as a result of their differing levels of fame. Even when he takes a photo with Taylor Swift and she doesn't recognize him, he finds it amusing rather than feeling hurt.
In addition to his complaints and numerous grudges, he provides excessively superfluous information about his experience on I'm a Celebrity last year ("we had potatoes one night, yum"), and revisits his legal disputes with Moss in a manner that Morrissey would admire. The book becomes much more engaging when he talks about his spiral into heroin addiction ("my reputation was tarnished"), and his time in jail in 2009 for supposedly holding a male escort captive, restraining him to a wall, and assaulting him with a metal chain.
He proposes, does it actually make a difference what occurred? The only acceptable response would be: how about the truth? He stated in the courtroom that I assaulted him because he refused to have sexual relations with me. However, I did not find him appealing. He later begs, I am not a malevolent ruler, just a foolish person who made a major error due to excessive drug use.
In other instances, he admits to having undergone hair transplant surgeries, a surgical procedure to flatten his stomach, and obtaining a new set of teeth. When a friend expresses a preference for his previous teeth, he jokingly offers to send them to him if given an address.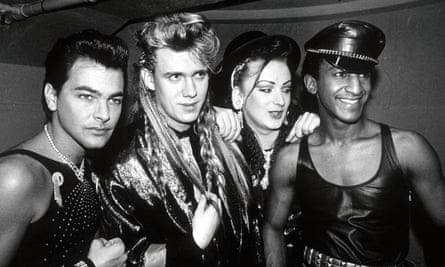 In the latter part of the book, there is a lack of a clear storyline as the author jumps from one topic to another, discussing Buddhism, his music not being played on Radio 2, and his shared birthday with Donald Trump. When he meets Tom Hardy, he ponders, "He sees right through me, but he's attractive. If he were to kiss me, I'd buy his calendar. Is there one available?" Shortly after, he states that it's a peculiar world where Jimmy Savile is allowed to roam freely while others are persecuted for not being born female. This comparison may make some uncomfortable.
The ghostwriter, Spencer Bright, can practically be heard begging him to stop speaking, but he continues on. He declares, "I may have social beliefs, but don't label me as a leftist. I'm just Brenda, with no ulterior motives," leaving one to question his reasoning.
If Boy George were leading an orchestra, the cymbals would constantly be clashing. Karma is loud and egotistical, and it doesn't always portray its subject in a positive way. However, it is enlightening and often humorous, proving that some individuals live at a higher intensity and always seek attention, jealousy, acknowledgement, and praise. Voila.
The book "Karma" by Boy George is released by Blink Publishing for £22. To help the Guardian and Observer, you can purchase a copy at guardianbookshop.com. Additional fees may apply for delivery.
Source: theguardian.com