The Windrush drama "Three Little Birds" featuring Lenny Henry received mixed reviews, with many criticizing its overly sanitized portrayal.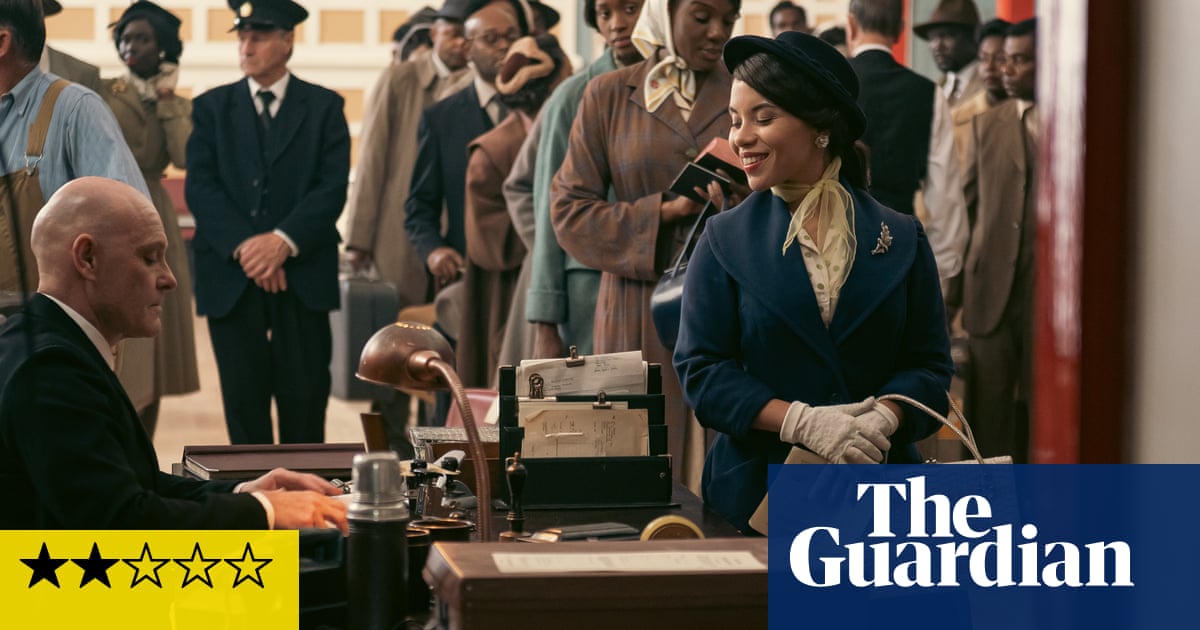 O
Our grandparents remain a mystery to us, and it is possible that our parents are as well. They embarked on journeys to unfamiliar continents to begin fresh lives – how did they find the courage to do so? Despite enduring difficult marriages and laborious, degrading jobs, how were they able to remain strong? They instilled in us the value of not prying, only to pass away without revealing their true selves. Therefore, how are we expected to comprehend them now?
Lenny Henry's latest historical drama, which takes place in Dudley, explores some of these enigmas through the stories of three women. These women, similar to Henry's own mother, left Jamaica in 1957 in search of better opportunities in the supposedly hospitable "mother country" of England. One of these women is Hosanna Drake (played by Yazmin Belo), a devout preacher's daughter who has been convinced by her determined and resourceful friend Leah Whittaker (Rochelle Neil) to join her on the journey to potentially become the wife of Leah's brother, Aston Brahms (Javone Prince), who is already living in Dudley. The third member of their group is Chantrelle (Saffron Coomber), another Brahms sibling who dreams of becoming a movie star and plans to pursue this goal while working as a nanny for a family in Borehamwood.
Henry, a well-known entertainer and advocate for media diversity, is currently in his mogul phase and has already been a part of successful, thematically similar series. In 2019, he worked on the emotional family drama "Soon Gone: A Windrush Chronicle" and in 2022, the thought-provoking "My Name Is Leon". However, this particular series, where he holds multiple roles as creator, executive producer, and writer for four out of six episodes, is perhaps his most intimate project yet.
The storylines, influenced by anecdotes from Henry's personal relatives, depict situations that are familiar to many other families who have immigrated. The blatant discrimination from their neighbors, displayed on walls and shouted in public; the inadequate and expensive living conditions; and the strained emotional connections to their home country. These experiences create a harsh sense of disappointment for these Commonwealth citizens who arrive in Britain, holding British passports, only to find a lack of maternal care in their supposed motherland.
Unfortunately, the timing of Three Little Birds does not allow for a soundtrack that syncs with heartbeats, featuring ska and dub reggae, as these genres did not gain popularity in the UK until the 1960s and the Bob Marley song of the same name was not recorded until 1977. Instead, at a blues party in Notting Hill, the sisters are seen dancing to the American genres of boogie-woogie and ragtime, leading to an unfavorable comparison with the powerful Silly Games scene in Steve McQueen's Lovers Rock. Even the opportunity to honor Trinidadian pianist and chart-topper Winifred Atwell is not enough compensation.
The drama also lacks grit and texture in other areas. There are several promising supporting characters, such as the straightforward neighbor Mrs. Biswas (played by Shobu Kapoor) and the landlord at the partially-integrated pub where a race riot occurs ("This is a nightmare…let's drink, Beryl!"). However, once these characters are introduced, they are neglected like illegitimate children before a big move. While it may seem wise to focus on the three female leads – all of whom give confident performances, reflecting a diverse and happy behind-the-scenes team – Three Little Birds not only places these women at the forefront, but also puts them on a pedestal.
The behaviors and actions of the characters seem toned down, as if they were taken from a letter a young person studying abroad would write to their concerned relatives. There are potential explanations for why a woman may choose to remain in a relationship with a man who continuously lies and betrays her, as Aston does to Hosanna, especially if she is living in a foreign country where she has no family support to rely on. However, these reasons are not explored in this context. Also, the dynamic between Chantrelle and her fellow nanny Siobhan (Michelle Fox) raises questions. Their unusually strong connection may be rooted in repressed lesbian desire, but this aspect is either unintentionally awkward or downplayed timidly.
The show Three Little Birds shows great respect for its characters, but it lacks a true understanding of them. While it is important to honor the Windrush generation, especially in light of the disrespect shown by previous home secretaries, this does not necessarily make for a compelling and enjoyable television drama. It would be beneficial to not only respect our elders, but also strive to understand them.
The television show "Three Little Birds" was originally broadcasted on ITV1 and can now be found on ITVX.
Source: theguardian.com