The top podcasts of the week feature the success of British girl bands, from Spice Girls to Sugababes, and their global impact.
Picks of the week
Springleaf
Easily accessible, weekly installments
James Acaster, a renowned comedian and host of a popular podcast in the UK, may not be who he seems. In this comedic crime series, he reveals himself to be an undercover police officer named Pat Springleaf, who has been using his career in comedy as a disguise. The show immerses us in the supposed wiretaps of his most significant case, providing a bizarre and creative take on scripted comedy that playfully pokes fun at the true crime genre.
Where It's At: A Short History of Girlbands
All episodes of BBC Sounds are now available.
"This new series, hosted by Mollie King of The Saturdays, delves into the history of all-female music groups such as Spice Girls, Little Mix, and Cleopatra. It features archived footage of the Wannabe singers making risqué jokes, as well as interviews with influential artists like Melanie Blatt from All Saints. It's an enjoyable and lighthearted listen."
What comes next? Featuring Trevor Noah.
Easily accessible, new episodes released every week.
Is society avoiding difficult discussions? According to Trevor Noah, yes. This is why he is taking the celebrity interview to a more personal level. The first guest is Dwayne "The Rock" Johnson, who talks about his concerns as a parent, struggles with depression, and even the possibility of running for president.
Legacy
Easily accessible, new episodes every week.
Can Napoleon be seen as a brutal dictator and warmonger, or a visionary leader? In their new podcast, Afua Hirsch and Peter Frankopan offer a thought-provoking perspective on historical figures. Future episodes will explore Nina Simone's impact on civil rights and the question of whether Picasso should be "cancelled." Hosted by Hannah Verdier.
Sue Perkins Presents: Carrie Jade Does Not Exist
Episodes will be released on Tuesdays and Thursdays on a regular basis.
Carrie Jade Williams, a lively and optimistic influencer on TikTok, created a strong and encouraging community by sharing her experiences with Huntington's disease. However, in a podcast by Sue Perkins and Katherine Denkinson, it is revealed that she fabricated her identity and created a viral story about a discriminatory Airbnb host that does not actually exist. HV
There is a podcast available for that topic.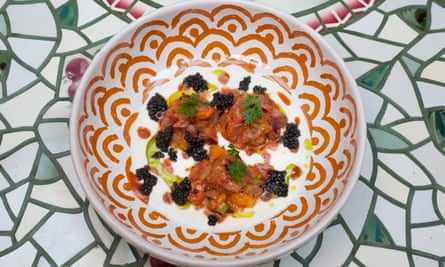 This week, Rachel Aroesti has selected five of the top underappreciated podcasts, ranging from a luxurious food-focused show to a comedic take on the potential consequences of reinstating capital punishment in Britain.
Til Death Do Us Blart
Unfortunately, it can be challenging to gain popularity when you only release one episode per year. However, this is a crucial aspect of the premise for this dedicated and playfully self-referential podcast, created by the producers of the popular comedy advice podcast My Brother, My Brother and Me. Since 2015, the trio, along with New Zealand comedians Tim Batt and Guy Montgomery, have made a tradition of rewatching and discussing the intricacies and absurdities of the widely criticized film, Paul Blart: Mall Cop 2, every Thanksgiving.
Gastropod
This series is hosted by two experienced journalists, Cynthia Graber and Nicola Twilley from The New Yorker. It is a rich and informative show that resembles a high-quality audio documentary. Each episode explores a different aspect of food, incorporating in-depth interviews, on-site reporting, and knowledgeable analysis from our knowledgeable hosts. From specific foods like caviar, pineapples, and ketchup to broader topics like plant-based meat and edibles, these two have a knack for turning any subject into thought-provoking content.
Artists discussing other artists
The title and concept of this podcast may be disorienting, as each episode features a team of comedians improvising a roundtable discussion set in a specific media niche. These niches include food stylists, in-flight safety video directors, difficult actors, and celebrity apology experts. However, those who are willing to overlook these challenges will be treated to one of the funniest shows available. Not only does it serve as a perfect satire of the entertainment industry, but it also allows for hilarious improvised moments. This podcast is evidence that when improv is done well, there is nothing quite like it.
Capital
Did you know that one of the top British comedies in recent years is actually a podcast? Created by comedy writer Freddy Syborn and featuring Liam Williams, Charlotte Ritchie, and Harry Enfield, Capital takes place in an alternate reality where the country has voted to reinstate capital punishment through a controversial referendum (a satirical nod to Brexit). The story follows bumbling and inexperienced government employees as they struggle to bring back capital punishment, facing conflicts and crises along the way. The end product is a bizarre and modern take on The Thick Of It, with a sense of impending doom. In short, it's fantastic.
Budpod
You probably think the last thing you need at this stage is yet another podcast featuring two male stand-ups shooting the proverbial, but if you do have room for just one more, consider this offering from Phil Wang and Pierre Novellie. Instead of dealing in straightforward British banter – despite both establishing their careers over here, Novellie was born in South African and Wang grew up in Malaysia – the pair come across as simultaneously more erudite and more scatological than their peers, cracking wise about anything and everything with professional-grade wit and an eye for the grotesque.
Why not try …
Love-Bombed, in which Vicky Pattison heads home to north-east England to investigate how a man maintained a relationship with a woman he met online while secretly still living with his wife and three children.

The creators of Radio 4's program Sliced Bread presents Toast, an examination of remarkable goods and companies that ultimately met with failure.
In Open to Criticism, film critic Wendy Lloyd explores the importance of discussing movies, who has the authority to do so, and the significance of these conversations, through conversations with other critics and social commentators.
To access the full version of the newsletter, please subscribe to receive Hear Here in your email every Thursday.
Source: theguardian.com