The strong connection between the Friends actors that earned Matthew Perry $30 million: "A bit strange, but full of love."
W
When Jennifer Aniston, Courteney Cox, Lisa Kudrow, Matt LeBlanc, and David Schwimmer publicly acknowledged the passing of their Friends colleague Matthew Perry, they did so as a united front. Their statement was brief but poignant, reflecting their intense sorrow and emphasizing their bond as a "family." Together, they mourned the "unthinkable loss" of someone who held a special place in their hearts.
Working together as a cohesive team has consistently been a key factor in the success of the Friends cast. In his book, Friends, Lovers and the Big Terrible Thing, Perry shared how Schwimmer, who was seen as the standout star of the show, proposed that they negotiate their salaries as a collective rather than as individuals.
In the first season, the actors were paid $22,500 for each episode, but in the second season, Schwimmer and Aniston started earning more than the rest of the cast due to the rising fame of their characters Ross and Rachel. In the third season, Schwimmer proposed that they all come together and take a pay cut so that everyone could receive equal pay.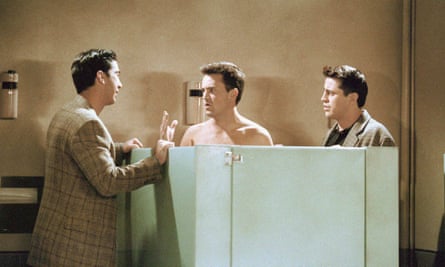 In the past, it was not common for actors to negotiate salaries as a group, but this approach has since been adopted by actors on popular shows like The Big Bang Theory and This Is Us. In his memoir, Perry praised Schwimmer for his selfless act of generosity in these negotiations. Schwimmer could have chosen to prioritize his own financial gain, but instead he made a decision that encouraged the cast to support each other during the numerous and stressful negotiations with the network. This ultimately gave the cast a significant amount of power.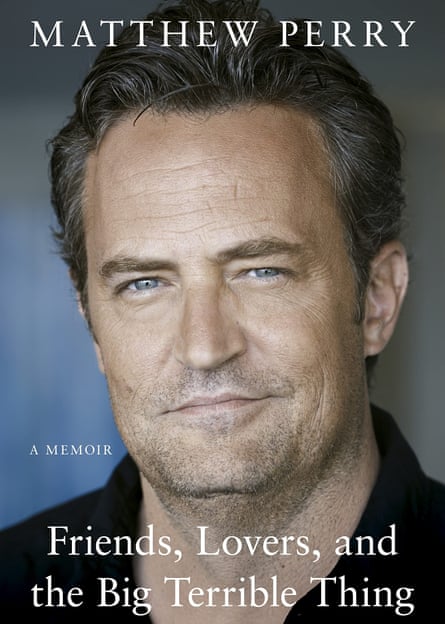 In 2001, by the eighth season, it was disclosed that they were earning $1 million per episode, a figure that Friends co-creator Marta Kauffman described as "excessive" during the 2015 Television Critics Association Summer Press Tour. In an interview with Huffington Post, LeBlanc remarked, "It's difficult to put a value on the humor of something." By the tenth season, Perry revealed that they were making $1,100,040 per episode and producing fewer episodes. "We are grateful to David for his goodness and shrewd business sense, which led to the offers we received. David, I owe you approximately $30 million."
The ongoing show of support, as they consistently worked together to negotiate their pay, likely played a significant role in keeping the cast united. In contrast, other television shows often experience main cast members departing after disputes over salaries. For example, Lauren Cohan departed from The Walking Dead after attempting to secure equal pay as her male co-stars (although she eventually returned), and Daniel Dae Kim and Grace Park left Hawaii Five-0 due to a disagreement over fair compensation. It is not surprising that discrepancies in pay can lead actors to leave their roles.
However, there was no animosity or bitterness when it came to the show Friends. In an interview with WSJ Magazine earlier this year, Aniston stated that it would have been detrimental if one of the cast members had become extremely wealthy. Instead, she chose to stay until the very end with her co-stars to provide a satisfying conclusion for Rachel, Monica, Phoebe, Chandler, Ross, and Joey's storylines.
Away from the cameras, the Friends actors made an effort to support their co-star, Matty, as they fondly referred to him, while he struggled with his personal battles with alcohol and drugs over the years. When he joined the cast as Chandler, he was only 24 and already heavily reliant on alcohol. During the show's production, Perry was consuming 55 Vicodin pills daily and weighed only 128 pounds (58 kilograms) at one point. Aniston approached him about his drinking in a compassionate and unconventional manner, as revealed by Perry. Eventually, his fellow cast members organized an intervention in his dressing room after a rehearsal was cut short due to his slurred speech. They came together as a supportive unit, like a family, in an effort to help someone they deeply cared for.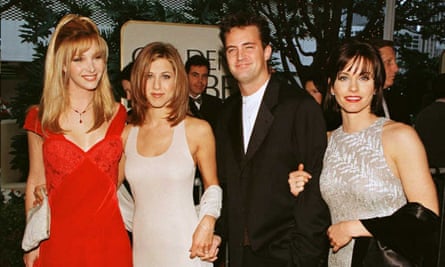 However, in his interview with the Heart of the Matter podcast for Partnership to End Addiction, he explained that his attempt to intervene in his loved one's addiction did not have the desired effect. He believes that seeking help from a trained professional who specializes in addiction is crucial, as many people do not understand that simply saying "no" during an intervention can effectively end it. With a professional interventionist and a plan in place, including immediate admission to rehab, he believes this is the most effective approach.
In 2022, during the promotion of his memoir, Perry disclosed to the New York Times that he had used approximately $9 million (equivalent to £7.4 million) to achieve sobriety and had been sober for 18 months. Despite his battle with addiction, he expressed gratitude for the love, compassion, and encouragement he received from his Friends co-stars. He compared their support to how penguins in nature gather around and support an injured penguin until it recovers.
In the future, Aniston, Cox, Kudrow, LeBlanc, and Schwimmer may choose to share their personal memories and stories about Perry. However, for the time being, let's allow them to grieve the loss of their charming, talented, and vulnerable co-star. Perry had a quick wit and excellent comedic timing that could brighten up any room. Despite their success, his co-stars remain united in their sorrow and have always been there for each other as the closest of friends.
Source: theguardian.com