The seventh week of Strictly Come Dancing was documented as it unfolded.
Wow. I am not observing the fireworks, only tonight's dancing.
The liveblog for Saturday has come to an end, but don't worry, there will be plenty more dazzling performances to enjoy this weekend. Join me again for the results show on Sunday at 7.15pm on BBC1. I will start the blog at 6.45pm for the pre-show coverage, so please come back then. In the meantime, you can find me on Twitter @michaelhogan, feel free to stop by and say hello.
Thank you for joining me and for all of your amazing interactions. I will see you tomorrow, but in the meantime, remember the old saying: keep dancing!
Viewers can switch to ITV1 for the revival of the singing competition The Voice, featuring spinning chairs, or to BBC2 for an evening dedicated to the music of The Beatles. The Beatles, a rising musical group from Liverpool, are gaining popularity.
Kennedy, Sinatra & The Mafia will be airing on Channel 4 at 9pm. Later… With Jools Holland will follow at 10.25pm on BBC2.
Tonight's film choices include Mrs Brown, a royal drama featuring Judi Dench and Billy Connolly, airing at 10pm on BBC Scotland. Don't worry, it has nothing to do with a mother and her sons. Alternatively, you can catch the classic noir film A Kiss Before Dying on Talking Pictures TV at 10:05pm. Just be careful up on that roof, ladies.
Lastly, during the final Couple's Choice performance, EastOfStratford shares, "I've come to the realization that watching Krishnan dance is reminiscent of watching Hamza last year. The emotion is palpable. It's witnessing someone uncover a new aspect of themselves and, as the saying goes, igniting joy."
MissMartini comments, "Krishnan seems to be enjoying himself, but Couple's Choice ranks in my bottom two for Strictly dances, with the rumba being my least favorite."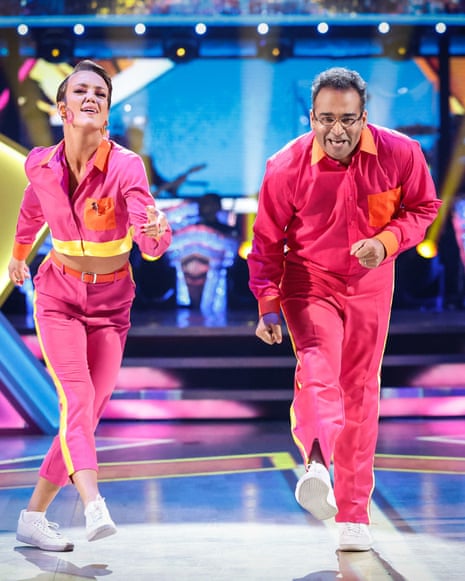 Neverhopeful comments on the dim lighting, questioning the frequent occurrence of dances in the dark and wondering if it's due to financial struggles with electricity bills.
Rufusonly commented: "Ellie's performance was a pleasant surprise. It was wonderfully diverse and full of sophisticated elements."
Maidhc, the gardener, raves about Ellie and Vito's American smooth performance, calling it flawless with great dancing and incredible looks. He also praises Vito's old Hollywood style in white tie tails, which he finds breathtaking. Maidhc eagerly requests for more performances like this and expresses his love for the duo.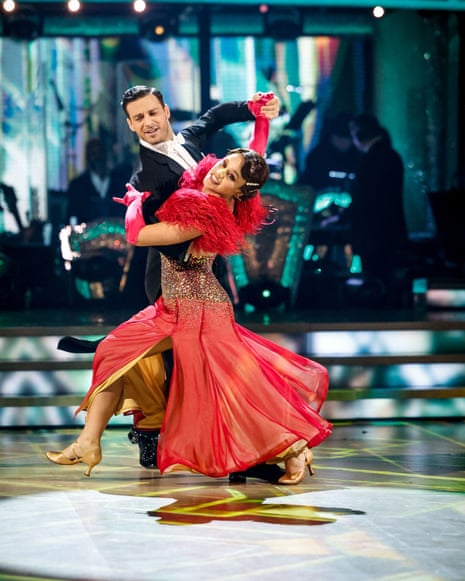 Garyh001 believes that Bobby is not mature enough to participate in this dance.
Marianeliz states: "Bobby's height compared to Diane's makes it difficult for him to maintain good posture. I believe it's an unfortunate match."
Somersetlass commented, "I find it odd that Angela S chose to wear a flamenco dress for the samba. The wardrobe choices for tonight were unusual. However, I did enjoy her samba performance. Her personality was evident and she has made significant improvement. I am really enjoying her partnership with Carlos."
Yodaknowsall compliments Annabel Croft's performance on Couple's Choice, saying it's the best she's danced even without the backstory. They also mention the possibility of feeling emotional during the routine.
stopandsmelltheroses rightly says of her pro partner: "Johannes should be available on the NHS. He is a tonic. Such a good soul."
A quick informal survey of your remarks. Mistressgem mentions, "I'm starting to really like Layton. I saw him on the Graham Norton show and he was charming."
Instead, Rufusonly claims that Layton's dancing style was more of a performance jive rather than a traditional ballroom jive. According to Rufusonly, professional dancers should adhere to the correct discipline if they want to participate. Anton and Craig were following the correct discipline, while Shirley always strives for fairness and impartiality.
AvenueMan comments: "Anton advises Nigel to improve his top's appearance." I concur. A simple black t-shirt on Strictly? Inappropriate!
These are the most highly desired awards in the Elstree and Borehamwood area. Here are the recipients of this week's accolades…
Best dance: For the second week running, Ellie Leach by a mile. Surely a finalist. A glitterball winner? I'm increasingly hoping so.
The lowest scoring performances were Adam's rumba and Angela S's samba. Both dancers failed to capture the essence of their assigned dance styles.
The most optimal music selection: The classic options were most effective. The use of big band swing for Ellie's American smooth and Nat King Cole for Angela Rippon's waltz was particularly successful.
The most unfavorable selection of music: Transforming Robyn's iconic song into a slow and sweet wedding tune.
The top attire: Both Katya Jones and Ellie Leach's dresses were well-received.
The most unfortunate outfit was worn by Angela Scanlon, as her flamenco dress resembled more of a paso doble than a samba. Shirley Ballas' disco-inspired Yeti outfit also received some questioning looks.
The top judge's feedback was, "I appreciate an arm that is equivalent in length to a leg," according to Anton. This was peculiar, but I did find his remark to Krishnan amusing: "You elevated walking to a whole new standard. Although, for walking, it was exceptional."
The worst vote tally: No definite victor, except for Carlos who was slightly bothersome in the practice area. However, I did enjoy the segments where they explained the different dance styles, particularly Dianne Buswell's briefing on the Argentine tango.
Top Claudia joke: "Krishnan, otherwise known as Jay's father."
Ellie Leach has once again claimed the top spot on the scoreboard, with Layton Williams close behind, just like last week. The judges' scores will now be added to the public vote, and the two lowest-scoring couples will have to compete for their place on Sunday evening.
Adam Thomas and Angela Scanlon, who are tied for last place, must be dreading the red light of elimination. However, Angela Rippon, who is only one point ahead of them, may also be feeling anxious as she waits to see if she will be safe.
"Tess and Claud sway along, encouraging, "Keep dancing!" As the shapewear is shed and a collective exhale is taken, join us for an examination, response, and recap of your feedback."
Motsi owns a phone that can be inflated. Craig is a serious strongman from the Victorian era. Claudia often bursts into laughter.
The judges had positive feedback for Krishnan and Lauren. Krishnan himself expressed his love for their performance, despite not being as skilled as Patrick Swayze. Shirley noted the difficulty of the syncopations but praised their partnership. Anton enjoyed watching their performance and appreciated the unique approach to walking. Craig felt they could have added more groove but commended their charm and infectious smile. Motsi was impressed with their heartfelt dance, even admitting to being jealous. Will they receive eights as a result?
The judges gave scores of 6 (negative), 8, 8, and 8, resulting in a total of 29 points. Are we safe? I hope so.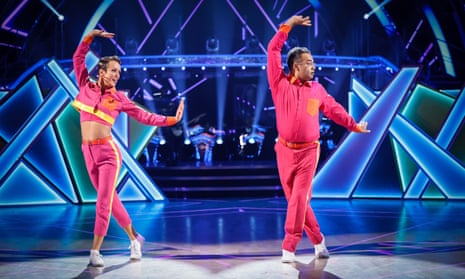 The final dance is here. He has been on a journey of transformation this year, and this performance tells the story of how dance has helped the newsreader from Channel 4 rediscover his fun-loving side. Starting at a news desk, he sheds his serious persona to embrace color and light, with a modern jazz and musical theatre fusion. Lifts, synchronized steps, and partner work showcase their strong connection (Lauren being his long-lost friend). This routine is all about pure enjoyment, with Krish putting his heart and soul into it. While a bit unsteady at times, he oozes charm and charisma. The jazziness and playfulness make up for any missed steps. Confetti falls as they end with a lift.
The popular song "You Can Call Me Al" was written by Paul Simon and released as the lead single from his 1986 album Graceland. Simon and his wife Peggy were inspired to write the song after attending a party with French composer and conductor Pierre Boulez, who mistakenly referred to them as "Al and Betty". The lyrics of the song revolve around a man going through a mid-life crisis, which led some to wonder if Simon was trying to convey a personal message. The music video features actor Chevy Chase lip-syncing to Simon's vocals.
The judges' feedback for Adam and Luba: Motsi commended their performance, saying they did a great job and made Luba look fantastic. However, she suggested they incorporate more action and spine into their routine. Shirley acknowledged the difficulty of their routine but noted that they executed it well. She also praised their soft hand movements but suggested they work on changing weight more. Anton praised their overall performance, complimenting their partnering and musicality. However, he felt that the rumba portion lacked strength and was too lyrical. Craig gave a critical assessment, describing their routine as "snatchy and grabby" and pointing out their stiff hips. However, he acknowledged the strong connection between the partners and how it made their love story believable. He gave them a score of seven and a six.
The judges gave scores of 6, 7, 7, and 7, resulting in a total of 27 points. This places the contestant at the bottom with another potential dance-off in their future.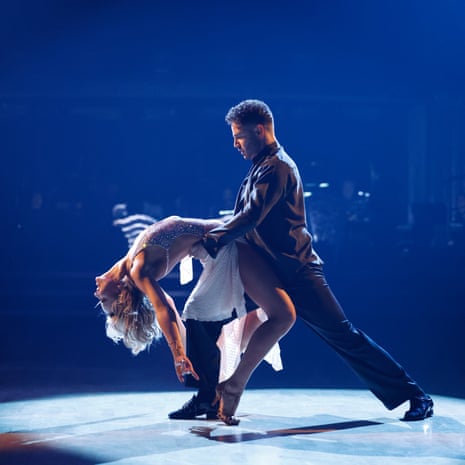 Second to last dance of the night. Adam is the first male celebrity to attempt the challenging rumba in this season. It will be a difficult dance to recover from after being in the bottom two, but it holds special meaning for Adam as it was the song he danced to at his wedding with his wife Caroline in 2017. Drawing on that emotion should allow him to showcase his passionate and romantic side, but the transitions and technique present a challenge. Will he be able to capture the constant Cuban motion and figure-of-eight hip movements? The lighting and wardrobe give a moody, black and white vibe. He may be doing too much walking, but his partnership with his dance partner and their chemistry is sizzling.
The song "Dancing On My Own" by Calum Scott gained popularity in 2016 when he performed a slower, more mellow cover of Swedish singer Robyn's upbeat electropop hit on Britain's Got Talent. Journalist Alexis Petridis from The Guardian described Scott's rendition as "gormlessly sandblasting away the original's emotional complexity in favor of mournful piano-playing". However, it seems like Petridis actually enjoyed it.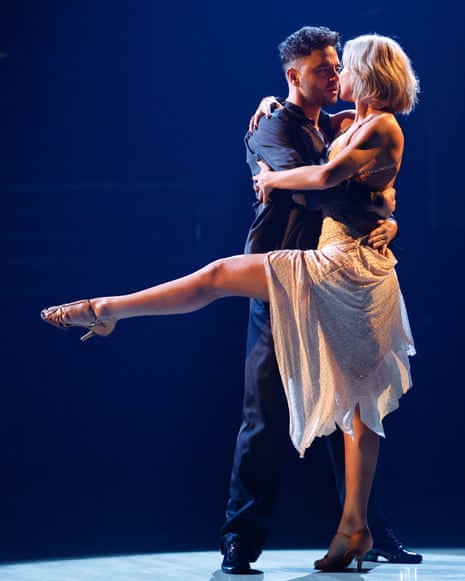 Source: theguardian.com