The developers of Bluey: The Videogame discuss their approach to creating a game that appeals to both children and parents.
F
After Peppa Pig's successful run as the most tolerable choice for exhausted parents seeking a break from the overwhelming world of preschooler television, a pack of Australian canines has raised the bar for what children's shows can provide for adults. This family, known as the Heelers, are the main characters in the highly popular animated sitcom Bluey – at one time, the most-watched television program in Australia and even more popular than Succession in the United States.
Bluey is a clever and heartwarming show that follows the ups and downs of life for kids under six years old. Not only does it capture the funny moments, but it also portrays the realities of being a parent. Some of the most touching scenes involve Chilli and Bandit, the dog parents, as they navigate the challenges and joys of watching their children learn and grow, and even poke fun at each other when their parenting skills fall short.
Given the popularity of Ludo Studio's product, it was only a matter of time before a video game version was developed. This presented the challenge of creating a game that would appeal to young players while also incorporating elements of parenting. The responsibility for this task was assigned to Spanish studio Artax, in collaboration with UK publisher Outright, known for their previous titles based on the commercial juggernaut, Paw Patrol.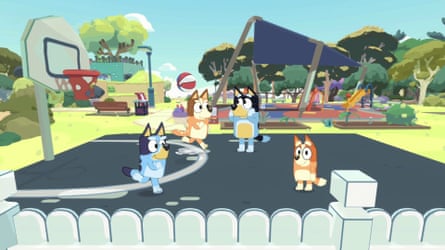 According to Vincent Grogan, a production director and parent who has immersed himself in the world of Bluey for months, the parents in the show may seem perfect, but they also have relatable flaws. He believes that watching Bluey has made him a better parent, as the show promotes playing together as a family. This inspired them to incorporate these ideas into a kids' game, which started with Ludo and the BBC.
A relationship with the animation studio behind Bluey and the broadcaster that co-commissioned it granted Artax and Outright the opportunity to bring on the voice talent behind Chilli and Bandit, and secure access to Ludo's artwork and materials.
Grogan explains that the team had frequent communication with various members who contributed to the show, such as those involved in visual design. This allowed them to accurately depict and rebuild the house. The show's sound designer, Dan Brumm, not only provided sound effects but also portrayed Uncle Stripe, adding an extra layer to their resources. Additionally, they had access to Joff Bush's music from Bluey, which greatly enhanced their understanding and immersion in the show.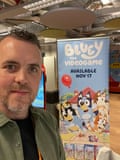 The outcome of this endeavor is a video game that takes place in the Heeler family home and various other settings from popular episodes of Bluey. The gameplay draws inspiration from classic point-and-click games like the well-known Monkey Island series, allowing players to explore, gather items, and solve puzzles. Hidden areas also contain balls or toys that can be interacted with for enjoyment, allowing players to act like a member of the Heeler family. Although it can be played alone, the creators were determined to make sure that families could also play together.
According to Grogan, players are able to choose from any of the four main members of the Heeler family (Bluey, Bingo, Mum, and Dad) and can play with up to four people simultaneously. This allows for parents and families to join in on the fun and play with their children or other family members, similar to how many families watch the show together.
"You have the option to stick to your usual roles, where the parents take charge and stay focused on the task, or you can take your time and explore freely… There is no rule saying that roles cannot be switched, allowing the children to take on the role of parents."
Source: theguardian.com