The Blackpool special of Strictly Come Dancing was live-tweeted as it occurred.
The BBC has fully embraced risqué content for their Saturday evening programming, and I am thoroughly enjoying it. It's truly a great time to be alive. Do you recall when the only option was Noel Edmonds and his character Mr Blobby, along with the gunge tank?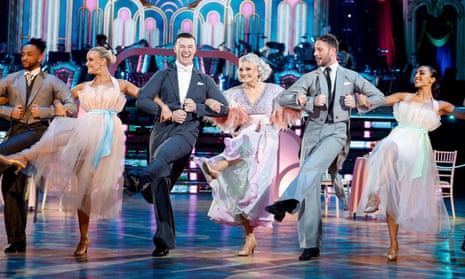 Tuityfruity commented on Nigel Harman's quickstep, stating that while the staging added a touch of Hollywood glamour and flashy end-of-show vibes, it lacked the necessary swing for their taste.
MartGray compliments the performance, praising its elegance. They also mention seeing Len's presence among the backing dancers, dressed in tails. MartGray expresses admiration for Nigel and Katya.
SecretPuddleJumper says: "Nigel really couldn't pretend then, could he? Still, he gets a vote from me tonight."
Regarding Angela Scanlon, acanthe commented: "I was impressed with the staging, creating an intimate atmosphere in such a large space. The dance was fantastic – I really enjoyed it. Tonight's show is exceeding expectations and living up to the hype."
Victoria's Secret comments: "Angela's Irish dance experience has been more of a disadvantage than an advantage for most of this season, but it was truly impressive tonight. Her legs were phenomenal. I agree with Anton, not Craig."
According to styletraveller, Annabel Croft has the potential to make it to the final and she continuously improves with each passing week.
"I am indifferent to their final placement, but to me, Annabel and Jojo embody the essence of Strictly."
Joanieloves comments: "I really adore JohAnnabel. I agree with Motsi – their connection is amazing and Annabel has really grown in the past few weeks. What a journey!"
SparklingDormouse says: "Not my favourite from Ellie and Vito. Good but not amazing. Felt Vito showcased more than Ellie & needed a bit more energy at times."
Ms. Middlechop stated: "There is an abundance of content from E&V, enough for two dances."
MartGray commented: "Ellie and Vito's backwards pass-over was impressive. The attitude and early Lily Allen vibe were also great. It was amusing to see even Graz looking bemused while Vito was explaining something. Asking Vito to explain has been just as entertaining as the ongoing Jay joke."
Climbingrose commented on Layton Williams' performance in the Couple's Choice category, stating that they believe Nikita is enjoying the opportunity to choreograph challenging dances this year.
MarkRoche comments: "It's difficult to fairly compare and judge against the other performances tonight. There were a lot of aerobatics, which took away from the dancing in my opinion, but it was executed at an exceptional level."
I apologize, that didn't impress me. If you want to be in Magic Mike, at least take off some clothes. It was more of a show than a dance.
Acanthe commented, "Did you see the extension? That'll show Angela Rippon! Haha. I really enjoy this show – it covers everything from elegant tea parties to pole dancing. Awesome!"
wagwanpiffting says: "I'm a 53-year-married man with three kids. I think I'm pregnant after watching that."
DaveWatcher commented, "I was expecting a completely honest video about Layton's journey. He claimed it's easy compared to performing eight shows a week in the West End, playing the roles of Billy Elliot, Michael Jackson, and Jamie the drag queen. Not only did he have to carry the entire show, but he also had to sing and dance simultaneously."
According to multiple sources, the judges were not consistent. Gardener_Maidhc questioned why the judges were being overly polite to Angela, despite her performance appearing messy. They seemed to be giving her high marks in 3 out of 4 categories, and Craig's feedback was appreciated but Anton's score of 8 seemed questionable.
Rufusonly states, "Anton has given Nigel a lower grade than Angela Rippon. Is he capable of performing his duties?"
A prompt survey of your opinions by the ocean. Commenters believe that Angela Rippon is in trouble.
mcculloch29 says: "That was pretty amazing for a 79-year-old woman. However, it was very clearly a 79-year-old woman, who made several very visible errors."
Victoria's Secret commented that Angela seemed to be having a good time and agreed with Craig's assessment. They noted that there were some errors but were happy that she was able to perform multiple spins on the dance floor at Blackpool. However, Victoria's Secret believes that this may be the end for Angela and it appears that the judges share this opinion.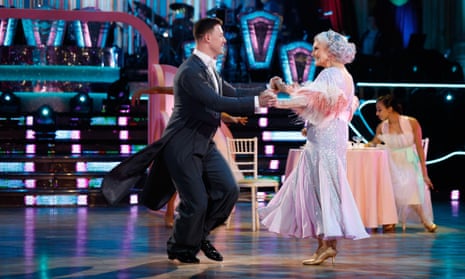 Layton Williams and Ellie Leach tied for first place on the leaderboard, which feels just right considering their consistent performance throughout the season. The judges' scores will be added to the public vote, and the two lowest-scoring contestants will have a final opportunity to dance on the Tower Ballroom floor in tomorrow's dance-off.
Angela Rippon is likely feeling anxious about the possibility of being eliminated, but who might she be up against? Nigel Harman seems like a strong contender and I believe he would correct many of his mistakes if he ends up in the dance-off. Annabel Croft may also be feeling nervous as she waits to see if she will be safe.
The Tower Ballroom show was truly impressive with its skilled backing dancers, grand performances, and daring choreography. While Craig may have forgotten his 10 paddle, I admire how he stood his ground against the pressure to give a perfect score. None of the contestants were quite worthy of a 40, although the other three judges gave Layton, Ellie, and Angela Scanlon high marks.
Last week marked the initial split decision by the judges in the series, signaling a shift towards a more intense competition. As we enter the final four weeks tomorrow, the stakes are raised. The coveted glitterball trophy is starting to catch the eye…
Source: theguardian.com