Television schedule for this evening: a compelling and exhausting tale about a cemetery worker in Ukraine.
The Grave 10.45pm, ITV1
Vitaly Borovyi, a gravedigger in Izium, Ukraine, had to constantly switch between digging and burying when there was no shelling and seeking shelter when shelling occurred. He documented and interred around 450 slain Ukrainians in a mass grave during the six months of Russian occupation. Allie Wharf's powerful documentary delves into the city's experience of war, including the proper burial of the deceased and the pursuit of Russian perpetrators by investigators and intelligence agents.
The animated version of Dad's Army.
8pm, Gold
Although five early Dad's Army episodes weren't archived by the BBC, audio recordings of them survived – featuring the voices of Arthur Lowe, John Le Mesurier, Clive Dunn and John Laurie. More than 50 years later, they are brought to life through animation in this fan-pleasing new series. It starts with Private Walker being called up to the army. HR
The Long Shadow
9pm, ITV1
This intense but skillfully portrayed play reaches the moment of Peter Sutcliffe's apprehension – however, as we are aware, that is not where the matter concluded. This final installment depicts his punishment and the heated aftermath, which includes chief constable Ronald Gregory's appearance on Desmond Wilcox's talk show with the victims' family members. HR
The Gilded Age
9pm, Sky Atlantic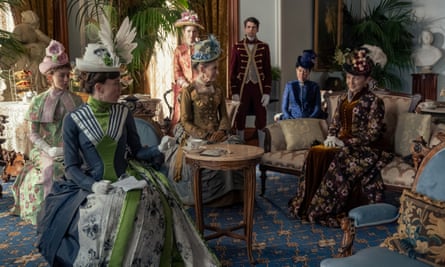 The second season of the polished and simplistic portrayal of social divides in 1880s America carries on, as the aftermath of denying prominent outsider Bertha (played by Carrie Coon) a box at the Academy of Music continues to cause ripples. At the same time, a predicament arises at the steel factory in Pittsburgh as the employees begin to unionize.
The Real Manhunter
9pm, Sky Crime
Former police officer Colin Sutton (portrayed by Martin Clunes in ITV's Manhunt dramas) leads the way in this factual crime show, returning for its third installment. The first episode, which runs for a full-length feature, delves into one of Sutton's most notable investigations: the hunt for a murderer nicknamed "the Camden Ripper" following the brutal deaths of two women in 2002. Written by Graeme Virtue.
Big Zuu's Big Eats
10pm, Dave
The special guest on this week's episode of Big Zuu is Australian comedian Sarah Kendall, who has an interesting survival story of eating cat food during a forest ordeal. For their meal exchange, Big Zuu offers her "fancy" canned squid ragu with kibble crumbs while Sarah creates a dish called the "salad of shame" made with lentils, rice, and charred onions.
Source: theguardian.com