's 60th birthday Tonight on TV, there will be a joyful celebration honoring Lenny Henry's 60th birthday.
Lenny Henry: One of a Kind 9pm, ITV1
David Tennant praises Lenny Henry and sets a loving tone for the tribute. The film highlights the wide range of Henry's accomplishments, starting from his beginnings as an impressionist and his wild days on Tiswas and Three of a Kind. Along with his ventures in music and acting, he has also dedicated himself to numerous charitable causes, constantly pushing forward. A refreshing reminder of his legacy. Phil Harrison
The Art of Film with Ian Nathan
8pm, Sky Arts
A insightful new series delving into the impact of cinema, written by film critic Ian Nathan. The first installment takes a closer look at the distinct styles and sensibilities of Michael Powell and Emeric Pressburger, whose partnership left a lasting mark on British cinema in the late 1940s. PH
Soldier
9pm, BBC One
The recruits are currently at the midpoint of their training, facing challenges such as crawling through mud, using guns, and yelling. To intensify their training, they will now be put under greater pressure. It remains to be seen how Stretton and Hall-Beakhouse will handle being in the field without rest or comfort. Hannah Verdier
Conversation With the Undead
9pm, BBC Two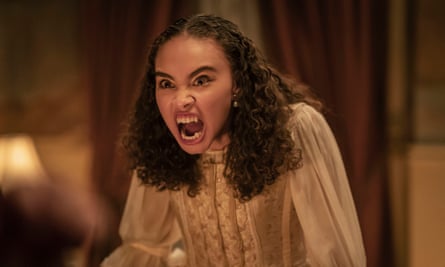 The sucking of blood persists in this skillfully crafted version of Anne Rice's eerie horror novel. Daniel remains dedicated to his investigation, having been granted permission to examine the journals of a vampire. These journals belong to the young girl who was rescued from the fire last week, but she may come to regret surviving. Alexi Duggins
Taskmaster
9pm, Channel 4
Taskmaster Greg Davies is easily disgusted and will show disdain for even the slightest mistake. However, Lucy Beaumont's actions this week managed to disgust even the typically calm Sue Perkins and the usually unflappable Julian Clary. Ellen E Jones.
My Super-Rich Holiday
10pm, Channel 4
Eddie Kadi, a comedian and participant on Strictly, takes us on a tour of the lavish lifestyle of affluent Ghanaians in this glamorous documentary. Joined by Guz Khan, they visit the luxurious hotspots of Accra, where you may come across famous Afrobeats artists and extremely wealthy men.
Film choice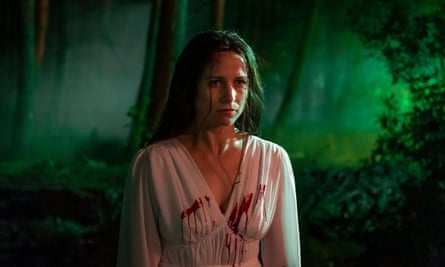 The film "Censor" by Prano Bailey-Bond will be airing on Film4 tonight at 10:50pm.
Prano Bailey-Bond's mesmerizing drama delves into the hysteria surrounding "video nasties" in the 1980s, slyly emulating the low-budget, visceral horror style of films like Driller Killer and I Spit on Your Grave. Niamh Algar delivers a haunting performance as Enid, a film censor who has become desensitized to the male violence in her line of work. However, everything changes when she watches a movie that brings back memories of her sister's disappearance years ago. As fiction and reality begin to merge, Enid becomes convinced that her sister may still be alive, leading her down a twisted and dream-like path reminiscent of David Lynch's work. Simon Wardell
Source: theguardian.com