Roundup of the top new picture books and novels for children and teens.
The book "DIs for Dog" written by Em Lynas and illustrated by Sara Ogilvie, published by Nosy Crow, costs £9.99.
A lovely, lollopy picture-book alphabet of dog preoccupations (Bark, Itch, Napping etc), which bounces from A to Z in gleeful rhyme, with a bonus alphabet of breeds at the back. Ogilvie's round-eyed, boisterous pups are inimitably charming.
"Vlad the Fabulous Vampire" by Flavia Z Drago, published by Walker, costs £12.99.
Like any good vampire, Vlad loves to be elegant in black – but his rosy cheeks make him look so horribly alive! This sweet, unspooky picture book about revealing your true self is elevated by Drago's enticingly detailed illustrations, enlivened by riotous flashes of pink.

The book "Salat in Secret" by Jamilah Thompkins-Bigelow, with illustrations by Hatem Aly, is available for £12.99 from Andersen publishers.
Muhammad receives a prayer rug from his happy father on his seventh birthday. However, Muhammad is hesitant to pray at school because he observes his father being judged for praying in public. Will he have the bravery to seek assistance from his teacher? This poignant and subtle book effectively portrays the fear of facing criticism from others.
The Dress in the Window by Robert Tregoning, illustrated by Pippa Curnick, OUP, £7.99
A young boy develops a strong affection for a red dress displayed in a store window. He works hard to complete tasks and save money, but unfortunately it is sold before he can purchase it. However, his mother has a special surprise for his birthday in this heartwarming picture book that emphasizes love, joy, and unconditional support.

"Laura Henry-Allain's My Family, Your Family, with illustrations by Giovana Medeiros, is available for purchase from Ladybird for £12.99."
This informative and diverse nonfiction book is perfect for readers aged 5 and up. It embraces and celebrates various types of families, while also discussing how families can evolve over time and why some children may live with adoptive or foster families. With thought-provoking discussion questions like "What does 'family' mean to you?" and a useful glossary included, this book is a great addition to any classroom library.
The book "Godfather Death" written by Sally Nicholls and illustrated by Júlia Sardà costs £12.99 from Andersen.
A poverty-stricken fisherman is in search of a trustworthy man to be the godfather of his newborn son. However, the only honest man he can find is Death. This dark and eerie adaptation of the Grimm story is brought to life by Sardà's illustrations, featuring shades of deep green, pumpkin orange, and black, along with unsettling symbols and distinct characters. It is recommended for readers or listeners aged 6 and above who have a fascination with the macabre and enjoy an unexpected ending.
Learn how to communicate with chickens using tips from Dr. Nick Crumpton in his book, illustrated by Adrienne Barman and published by What on Earth. Available for £12.99.
This well-crafted guide is designed for wildlife enthusiasts aged 7 and above, particularly those who aspire to be like the famous character Doctor Dolittle. It contains fascinating information about animal languages, including examples of sneezing monkeys, purring chickens, and screaming frogs. As readers try to master the languages of pigs, goats, foxes, and crows, they are sure to produce some extraordinary noises.
Helen Cooper's book, "The Taming of the Cat", published by Faber, costs £14.99.
Assured and rich, this elegantly illustrated story within a story features Brie, a mouse Scheherazade who must spin a tale compelling enough to stop Gorgonzola the cheese-shop cat devouring him. Transformations, quests, happy endings and innumerable dairy products combine in a delicious treat for 7 or 8+ readers who enjoy gentle, whimsical fantasy.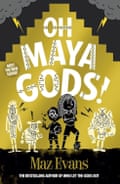 "Mighty Maya Deities!" written by Maz Evans and published by Chicken House for £7.99
Vesper, who is passionate about sports, and Aster, who is dedicated to studying, have a strained relationship. After Vesper accidentally releases the Maya death god Kizin from his confinement beneath Stonehenge, the two cousins must work together to rescue their parents from his grasp. Can they overcome their differences and work together effectively? This latest installment of the popular Who Let the Gods Out? series showcases a new group of heroes and is filled with intelligent humor. Recommended for readers 8 years and older who are interested in mythology.
AM Dassau's "Kicked Out" is available at the Old Barn for £7.99.
Ali is looking forward to summer because his friend Mark has a new pool and he is excited to hang out there with their other friend Sami. However, Mark's mom's new boyfriend appears to have an issue with Ali, Sami, and their friend Aadam. When Ali and Sami are kicked out of Mark's house and Aadam faces the threat of deportation, things seem to be at their worst. This sequel to Boy, Everywhere by Dassau features relatable characters and fast-paced events, making it a great read for ages 9 and up. It tackles the important issues of racism and complicated government processes that young refugees often face.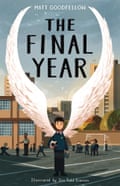 The book "The Final Year" written by Matt Goodfellow and illustrated by Joe Todd-Stanton is available for purchase at Otter-Barry for £8.99.
Nate has a lot of responsibilities to handle. He is not only beginning his final year of elementary school, but he also has to take care of his siblings while his mom is at bingo. To add to the stress, his closest friend is in a different class and becoming friends with someone that Nate dislikes. When his youngest brother becomes seriously ill, Nate's patience and strength are put to the test. This touching novel, written in verse for ages 9 and up, explores themes of change, adaptation, the impact of words, and the search for belonging.
"Flight to a New Haven" by Donna Barba Higuera is available for purchase at Piccadilly for £7.99. It features Alebrijes, a unique and fascinating concept.
Reworded: Leandro and his sister Gabi, who are Cascabel children, must work hard and sometimes steal to survive in the post-apocalyptic city of Pocatel. When Leandro is banished beyond the city walls where dangerous predators roam, he chooses to transfer his mind into an old drone, leaving his physical body in a safer place. However, what he encounters outside challenges everything he has been taught. This dystopian fantasy, written by a Newbery-winning author, is full of imagination, vivid descriptions, and thought-provoking ideas. It is recommended for readers aged 9 and above who enjoy detailed world-building.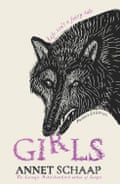 The book "Girls" written by Annet Schaap and translated by Laura Watkinson is available for purchase at Pushkin for £12.99.
The girls in these sharp-fanged fairytale retellings are brave, dedicated and flexible enough to free themselves without the help of princes – though they may be escaping subtler perils than witches or cages. Bold, sharp and written with deceptive simplicity, and heightened by Schaap's ominous black-and-white illustrations, this is an absorbing, slyly sinister collection for 11+.
Rebecca Barrow's novel "And Don't Look Back" is available from Hot Key for £8.99.
Harlow and her mother, Cora, have always lived a life on the run, accustomed to packing one bag and leaving at a moment's notice. However, everything changes one fateful night when Cora is killed and Harlow is left with a safe deposit box and the name of her mother's hometown, Crescent Ridge. Will Harlow finally be able to settle down and put an end to their constant running, or will the mysteries of Crescent Ridge threaten her safety? This fast-paced and well-crafted young adult thriller will surely appeal to fans of author E Lockhart.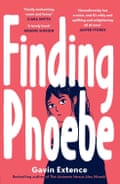 Finding Phoebe by Gavin Extence, Andersen, £8.99
Phoebe, a 15-year-old with autism, enjoys having a structured routine and avoiding surprises. She spends her time reading, walking dogs, writing, and mostly keeping to herself. However, when her best friend, the vicar's daughter, begins dating in secret and asks Phoebe to cover for her, unexpected changes start happening quickly. As Phoebe deals with these changes, she discovers her own strength in handling difficult situations and her ability to adapt and mature. This heartwarming and humorous story is perfect for readers aged 14 and above.
The Scarlet Alchemist by Kylie Lee Baker, Hodderscape, £16.99
Zilan, a biracial girl who lives in a poor village, has always dreamt of becoming a royal alchemist. Despite using her forbidden ability to bring back the dead, she struggles to provide enough food for herself and her family. However, when she is given the opportunity to take the imperial exams, her reputation as a resurrectionist causes her to get caught up in the political schemes of the capital. Will she survive the challenges and make it through the exams? Set in an alternate version of China's Tang dynasty, this dark and captivating YA fantasy is the first installment in a duology that will captivate readers who enjoy Xiran Jay Zhao's work.
Source: theguardian.com