Review of Martin Doyle's Dirty Linen: A Coming-of-Age Story in Northern Ireland's Violent Region
G
During his childhood in rural Northern Ireland during the 1970s, Martin Doyle did not witness many indications of the Troubles. He did not see any peace walls, never participated in a victim's funeral procession, and only saw soldiers patrolling his village once. However, even though he did not directly experience it, the conflict still heavily impacted his life. It was like an invisible epidemic that was affecting his neighbors, but had not yet reached his own home.
While his parents were out shopping, he was required to remain in the parked vehicle due to security measures against car bombings. If they were delayed on a night out, he feared they may never return. At the age of eight, his mother informed him of an elderly neighbor's passing. His response was, "Who killed her?" The concept of natural causes did not cross his mind.
Doyle was raised in Laurencetown, a village located approximately 25 miles north of the border in Tullylish, County Down. The O'Dowd family, who were responsible for delivering milk and coal to the people of Tullylish, also lived in the same parish. In January 1976, armed individuals wearing masks entered the O'Dowd family's isolated farmhouse, killing three male members and injuring a fourth. The O'Dowds, like Doyle and his family, were Catholic, while the gunmen were loyalists.
On the same night, three brothers from a different family were fatally injured in a loyalist shooting at their residence 15 miles away. Four nights prior, on New Year's Eve, three Protestants were killed in a republican bombing at a bar in Tullylish. The following night, in County Armagh, 10 Protestant colleagues were lined up and killed outside their minibus. The IRA has not yet acknowledged their involvement in this massacre. In Laurencetown, Doyle's mother began putting her children to bed without any lights on, afraid of drawing attention to their home.
Doyle is currently the books editor at the Irish Times. He has come back to Tullylish to recount the lives of those who died within its small area, to investigate the impact that the conflict had on the community, and the enduring sorrow and emptiness that remains in its fields, farmhouses, and villages. This is an intimately personal and emotional account, a work of dedication that has been thoroughly researched and, at times, difficult to bear. It will be recognized as a remarkable memoir of the Troubles.
In the 1800s, Tullylish was included in the "linen triangle", a region that manufactured high-quality linen for international trade, resulting in significant wealth for mill owners and steady employment for numerous people. However, in the late 1900s, it became known as the "murder triangle", where members of the Republican movement targeted soldiers, police officers, and innocent Protestants while loyalists also sought out and murdered Catholics. The animosity and brutality often had a disturbing familiarity; perpetrators were often neighbors or colleagues of their victims.
In some instances, it has been observed that loyalist murderers in Dirty Linen have collaborated closely with members of the security forces. Shockingly, there have been instances where these killers were actually serving members of the forces. Unfortunately, police investigations in these cases have been frustratingly sluggish and brief.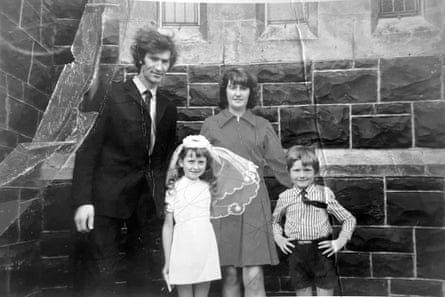 In the summer of 1972, violence erupted in Tullylish as a Scottish infantry regiment was dispatched to investigate an empty house. They had been informed that the building may contain weapons or explosives. Unfortunately, this tip proved to be true as an IRA bomb, hidden beneath the living room floor, exploded and claimed the lives of three soldiers.
Over the course of the next 25 years, an additional 24 lives were lost within and near the parish. Numerous individuals were severely injured and there were multiple instances of suicide. Among the deceased were three members of the Miami Showband, a cabaret group that was ambushed at a false British army checkpoint after a performance in Banbridge, a small town on the outskirts of the parish, in July 1975. While the checkpoint was a sham, it was staffed by actual British army soldiers who were also affiliated with loyalist paramilitary groups. Two of these soldiers accidentally blew themselves up while planting a bomb on the band's van; their surviving counterparts opened fire on the band.
In March 1982, 11-year-old Protestant boy Alan McCrum was killed while walking home from school. An IRA bomb detonated unexpectedly in Banbridge, causing the death of Alan and injuring 34 people, one of whom was left blind. Despite their devastating loss, Alan's family publicly expressed their hope for no acts of revenge or sectarian violence. They believed that their son's death was part of a greater plan by a higher power.
Although sectarian animosity played a significant role in the troubles of Northern Ireland, Doyle acknowledges the importance of recognizing and honoring instances of Christian compassion among different communities, such as the appeal made by Alan's family. Doyle believes that these acts served as a solid foundation and a last resort in preventing the region from descending into complete civil unrest.
The presence of the perpetrators was not always known. Even several years after the O'Dowd family was attacked, those who survived still recall that no one heard a car arrive or leave before and after the shooting. This suggests that the killers may have arrived on foot, using their knowledge of the area and its hidden paths to move undetected, according to Doyle's account.
There were always individuals in Tullylish who were committed to loving their neighbors, but there were also those who wanted to harm them.
Ian Cobain wrote the book Anatomy of a Killing: Life and Death on a Divided Island, which was published by Granta.
Source: theguardian.com