Review of Manon Debaye's "The Cliff" – Outcasts with a Monstrous Scheme
T
There are two girls in this story. One is named Charlie, she has dark hair and always looks angry. She lives with her single mother in a small house on the edge of the woods. The other girl is named Astrid, she has fair hair and is very polite. She comes from a wealthy family and they often go on shopping trips together. They are complete opposites and at school, Charlie pretends not to know Astrid to impress the boys who bully them both. But secretly, they are friends and share a bond of unhappiness that has led them to make a dangerous agreement.
Reflecting on my teenage years, it feels like a nightmare or a serious illness. My memories are both vivid and hazy, filled with slow days that seemed never-ending, and interrupted by bland Nescafé and my own dramatic creations. Perhaps that is why Manon Debaye's The Cliff had such a strange effect on me. At first glance, her highly praised graphic novel appears to be charming and reminiscent of a nostalgic picture book with its colorful sketches done in colored pencils. It showcases cute striped shirts, whispering silver birch trees, and a beautiful blue sea. However, do not be deceived! In reality, it tells a dark tale. Think of Lord of the Flies set in modern-day France. It sheds light on what can easily happen to young individuals when adults are preoccupied with their own issues or believe that their children have no right to be unhappy.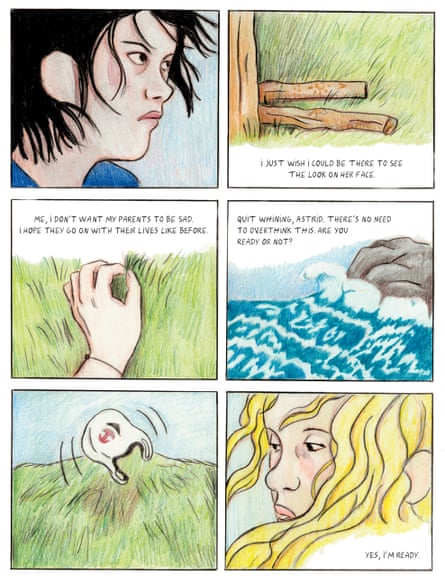 The story is narrated day by day, as the clock ticks louder and louder on Charlie and Astrid's dangerous plan (which will not be revealed). We are aware that those who are bullied often become bullies themselves, and this is true for Charlie. While both girls are outcasts at school, when they disappear on their bikes after school hours, Charlie is the dominant one and forces Astrid to do her bidding. The outdoor places they visit, particularly the cliff mentioned in the book's title, represent their transition into young adulthood. Despite their determination and fierceness, they are still children, as shown in a beautiful and poignant moment when they take a break from their power struggle to play with each other's hair. "You look like the queen of a mythical kingdom," Astrid compliments her own work. "And you look like an elf," Charlie responds with a smile, feeling pretty for the first time.
Montana Kane's English translation of The Cliff was awarded the 2023 Philippe Druillet prize at the Angoulême international comics festival, and it's easy to understand why. Its boldness embodies the essence of French culture. This brilliant, stunning work compels you to remember, even if you may not want to.
Source: theguardian.com