Lenny Rush reflects on his Bafta win, using profanity and enjoying his life to the fullest: "I adore being small. I am fortunate."
T
Lenny Rush received the news of his Bafta nomination while in the hospital recovering from spinal surgery. Although he was initially ecstatic, the mix of emotions and physical pain was not ideal. In May, he won the Bafta for best male comedy performance for his role as Ollie in the BBC series "Am I Being Unreasonable?" and also received two Royal Television Society Programme awards in March. Rush believes that this show has had a significant impact on his life.
Rush, a 14-year-old, is set to be a presenter at the upcoming Children in Need event. Although he is unsure of his specific role for the night, he made quite an impression last year as the bumbling manager of a celebrity call centre. This time, he will be taking on a live presenting role. When asked if he feels nervous, Rush admits to some nerves but overall is more excited than anything else. He couldn't turn down the opportunity to be a part of such a special event and would have regretted it if he had. Having grown up watching Children in Need, Rush understands the impact it has on people and describes it as a rollercoaster of emotions with heartwarming appeals and funny sketches. Overall, he is thrilled to be involved in such a meaningful and entertaining evening.
We are communicating via Zoom – Rush is currently at his home in Essex, where he resides with his parents and younger sibling, Bobby. His mother, Lisa, is just out of the camera's view. Rush exudes a relaxed confidence, captivating charisma, and is arguably one of the most courteous teenagers you will ever encounter.
Lisa was the one who applied to join the BBC children's channel CBeebies' Our Family series when Lenny was seven. Lenny, who has spondyloepiphyseal dysplasia congenita, a type of dwarfism, discovered his love for being on camera and his interest in the TV production process. At the same time, he began attending a Saturday morning club at the Pauline Quirke Academy of Performing Arts. He had very little acting experience prior to this, only participating in school nativity plays. He recalls being disappointed when he didn't get the role of Joseph and instead played a sheep.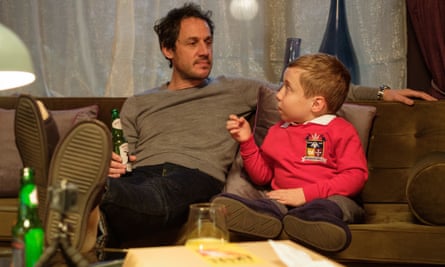 As he continued to act, his desire for a career in the field grew. However, he never expected to reach this level of success. He was grateful and fortunate to have the opportunities he did. He spent two years performing at London's Old Vic, portraying Tiny Tim in their production of A Christmas Carol. He also appeared in the BBC adaptation with Guy Pearce. He has appeared in various TV shows, including the children's drama The Dumping Ground, and recently had a role in Best Interests alongside Sharon Horgan and Michael Sheen. He is set to appear in the upcoming season of Doctor Who and has already received numerous awards. He seems to have accomplished so much already. He graciously responds with a thank you.
Was it difficult to transition between work and school? The longest period of time he took off was approximately three months while filming for Am I Being Unreasonable?, although he did have some days back at school during breaks. When he is away, he and his friends communicate frequently through messaging or playing online video games together and chatting, which has helped him stay connected with them.
Lisa says that her and her husband make sure that Rush has a normal life outside of work. They try to maintain a balance because her husband loves his job and is living his dream, but he is also young and needs to stay grounded. There are strict rules on set, which he understands and agrees with. He was excited when he got to swear on Am I Being Unreasonable? He even practiced his line in the car on the way to filming. However, when he arrived on set, his swear word had been crossed out on the script but he was still allowed to say it. He was so excited that he couldn't even read his line.
According to Rush, he is fortunate to have wonderful, supportive friends. However, they are not overly impressed by his success on Doctor Who. Rush recalls sharing this news with a friend who is a fan of the show, and their response was, "Oh, wow. Now, what role do you want to play?" When asked if there has been any jealousy among his friends, Rush admits that one of them is a bit envious. However, he acknowledges that there is nothing he can do to change that and jokes about the irony of being the bigger person despite having dwarfism. Rush mentions that the situation has improved since then.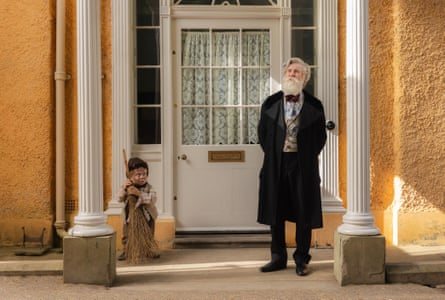 Rush had a great time working on the BBC series Dodger due to the presence of many other kids and teenagers. In the show, he portrays Morgan, a mischievous and happy-go-lucky boy who Rush believes is the most similar character to himself that he has ever played.
During the production of Dodger, Daisy May Cooper, the co-writer and lead actress of Am I Being Unreasonable?, brought up the idea of auditioning for the dark comedy. Rush was given the opportunity to improvise with the other actors and excelled at it. This improvisation added a natural and comedic element to the show.
His character, Ollie – funny, sensible, but multilayered and with possibly a very dark side by the end of the series – wasn't written as a child with a disability at first. "Nothing is ever really stated about my disability in the show either – it's sort of just there." When they were casting, his agent had asked if a disabled child could audition. "I think it made them think: 'Why not?'"
Rush incorporated his personal experiences into it, including small yet genuine details like his frequent use of a Segway or the addition of extenders to light switches for accessibility. "No one has really noticed, but it's a clever little detail," he remarks.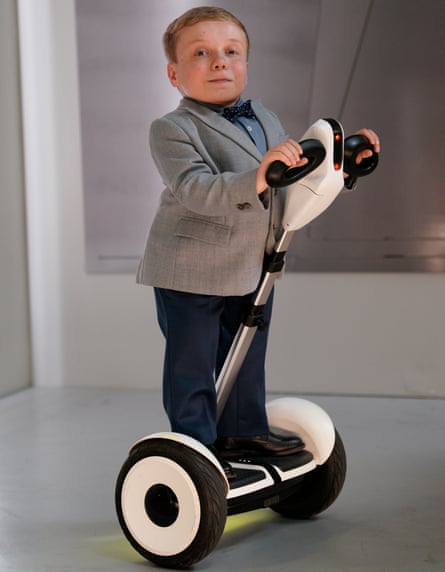 During Rush's upbringing, the only actor he saw who shared his condition was Warwick Davis. "Dwarfism is a wide spectrum and he has the same type as me. There weren't many people out there. There's Warwick, and I remember Verne Troyer and Peter Dinklage, but they are the only actors I know, which is unfortunate. There should be more." Rush believes that this is one of the reasons why he pursued acting – to bring greater representation and hopefully inspire others. He hopes to serve as a role model for children with dwarfism and their parents. "I didn't realize how difficult it was," he reflects on his own parents' experience when he was younger (he spent four months in the hospital after being born). "I think it's important for parents to see me and know that things will work out in the end and it will be a wonderful life."
Actor Peter Dinklage, known for his role in Game of Thrones, has spoken out against harmful depictions of individuals with dwarfism and has declined to take on stereotypical roles. Another actor, Warwick Davis, has acknowledged being typecast in fantasy roles. How does actor Mat Fraser feel about the available work opportunities? When asked about it, he responds, "I do think about that sometimes. I could easily play child roles, but when I'm an adult…I don't know if I'll be playing the typical adult role or if it will involve magical creatures, you know what I mean? I don't think I would enjoy that." He believes there should be a diverse range of roles available to disabled actors and doesn't want to be limited to certain types of characters because of his disability.
He always felt that he was unlike other children in terms of height, which became more noticeable as he grew older. His family were members of Little People UK, a charity and group founded by Davis and his spouse, Samantha. He expressed how comforting it is to be surrounded by others with dwarfism, as it can often feel isolating. He was pleasantly surprised to see how many people are living similar lives.
When the news of his role as Morris in Doctor Who was revealed, comments on the internet labeled his casting as "woke". This bothers him, but he hopes those who take the time to watch will see him as an actor. His mother reminds him that negative comments are only from a small group of people. Rush agrees, stating that he receives more positive comments.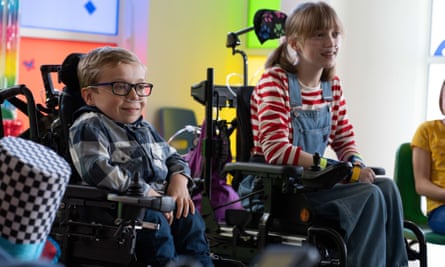 In the past, he had to adjust to others staring at him. "Now I remind myself that if someone is looking, it's okay because they might recognize me from television." Has it ever brought him down? "I don't believe so. Otherwise, you'll just go through life feeling unhappy and there's no point in that. I embrace my small stature – it's a part of who I am. I consider myself fortunate to have it." When he receives messages from children or parents with disabilities, he shares, "It truly brightens my day. One mother reached out about her son who has dwarfism and is in elementary school. He's struggling with the realization that he's different. She asked for my advice. I believe I told her, 'Your disability is your superpower.' And I genuinely believe that."
Upon his birth, Lisa resigned from her position as a dental nurse in order to take care of him. His father, Steve, is the owner of a kitchen design business. Rush has undergone surgeries on his legs and to repair a cleft palate, and most recently, he had spinal surgery. He now has two rods in his back thanks to his incredible doctor, Dr. Tucker at Great Ormond Street hospital, who has greatly improved his life. Rush explains that his condition can impact his vision, ability to walk, stamina, balance, and hearing. He jokes with perfect timing, "I'm like an old man."
Despite his young age, Rush has faced many challenges, yet he exudes confidence. Has he always been this way? "Have I, Mum?" he asks, turning to someone off-screen. His mother's voice is filled with pride as she responds, "You have always been happy, content, and able to make the best out of every situation. You have a naturally positive attitude." "Thank you," Rush says, showing uncommon politeness towards his mother. Then, looking a bit embarrassed, he adds, "That's where I get my confidence from." Lisa chimes in, "You truly are a ray of sunshine, Lenny Rush." While she may be biased, she is absolutely right.
Source: theguardian.com