Jon Fosse, winner of the Nobel Prize, stated that it took him several years before he had the courage to write once more.
O
On the day that this year's Nobel Prize in Literature was revealed, Jon Fosse took a drive in the rural areas near Bergen to unwind. Fosse, a Norwegian playwright and writer, admits that he was anxious before the announcement and has been considered a top contender for the award since 2013. However, he never truly believed that he would be chosen.
At 12:40, Mats Malm, the permanent secretary of the Swedish Academy, called and I felt a rush of joy in my body and mind. As someone whose works often explore uncertain themes, such as the existence of God and the whereabouts of characters in time and space, I naturally began to question the information I was receiving. Malm reassured me by saying, "If you don't believe it, just tune in to the television at one o'clock."
The Nobel Prize, which was given to Fosse for his unique literary works that give voice to the unspoken, marks the end of a highly successful and decorated career. Fosse has written 39 novels and collections of short stories, over 40 plays (with numerous translations), 13 volumes of poetry, and a few children's books. All of his works are written in Nynorsk, a form of Norwegian used by approximately 15% of the population, mainly in the western region near Bergen. Fosse divides his time between western Norway, Oslo, and Lower Austria. While his writing covers topics beyond politics, delving into the spiritual aspects of life as well as the small details of existence and how they intertwine, he notes: "Simply by writing in Nynorsk and growing up as I did, there is a political undertone to my writing." Although he was an atheist and anarchist during his teenage years (describing his political beliefs as "a bit of a mess, but leaning towards the left"), he now identifies as left-wing and converted to Catholicism in 2012.
It was through writing that he discovered a new path. "I found myself writing without fully understanding where the words were coming from. How do I handle this? It feels like it's coming from a different source." He had been attending a Catholic church in Bergen since the 1980s, but struggled with the idea of converting. He also spent time with the Quakers, but in 2012, after quitting drinking, he felt the need for something stronger. This led him to revisit Catholicism. It was around this time that he met Anna, who is now his third wife, and her family's Catholic beliefs influenced his own behavior.
On a chilly and overcast morning, I arrive at the Norwegian Theatre in Oslo to meet Fosse, a week after the Nobel announcement. As I enter the lobby, I am greeted by a display of bare trees, reminiscent of the one that adorns the stage in Waiting for Godot. This is fitting, as Fosse's minimalist plays are often compared to Samuel Beckett's. I then notice a poster advertising the upcoming Nordic premiere of Disney's Frozen, explaining the presence of a large pile of fake snow on the theater's otherwise empty and black stage. Shortly after, I watch Fosse posing for photos on the stage.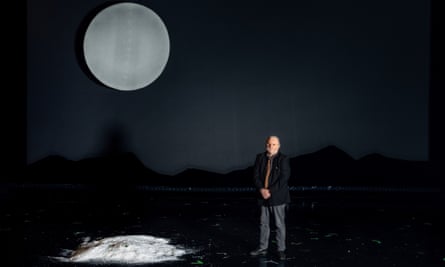 Fosse's Nobel win may not have the same impact of merging high and popular culture as a production of Frozen at a prestigious theatre in Norway (where his translation of Aeschylus's Oresteia recently concluded its run). However, it does attract new audiences to his plays and novels, which may seem intimidating in brief descriptions: prolonged pauses, fragmented timelines, and lengthy sentences. When asked about Beckett's reaction to winning the Nobel, Fosse replied, "I believe Beckett's wife said, 'What a disaster!' But for me, it's not a disaster at all."
Fosse was born into a farming family in western Norway in 1959 and when he was seven years old, he was involved in a serious accident. In his works, Fosse often includes a character named Asle who is inspired by Fosse himself. This character also experiences a similar accident in Fosse's story collection "Scenes from a Childhood" (1994) and in his widely acclaimed masterpiece, "Septology" (2021). However, the details of the accident are not fully disclosed in either work. When asked for more information, Fosse becomes uncomfortable and admits that he prefers not to discuss it. He shares that he lost a lot of blood and was close to death, but also had a peaceful and beautiful experience of seeing a shimmering light. This near-death experience had a profound impact on Fosse and may have influenced his decision to become a writer.
When Fosse was 20 years old, he won a writing competition at his university. He proudly shares that the jury was certain he was the deserving winner. Throughout our conversation, he often mentions his accomplishments with a hint of nervousness, including his novel Trilogy receiving the prestigious Nordic Council literature prize. He clarifies that this is the second most significant award one can receive, after the Nobel Prize.
Fosse's debut novel, Red, Black, was released in 1983 while he was still a student. The writing style of the novel was characterized by repetitive and rhythmic prose, a trademark of all his works. However, at the insistence of his publisher, Fosse cut the length of the novel in half. In his opinion, this also halved the quality of the book. From then on, he vowed to only listen to his own instincts for his subsequent novels.
He considers that book, Closed Guitar (1985), which won rave reviews not in Norway but Sweden, his breakthrough. Now he describes these early novels, about suicide and a woman paralysed with indecision when she locks herself out of the flat in which her baby is alone, as "heavy metal: there's too much pain". In this period, his 20s, "I had a lot of anxiety when I woke up – 'Oh, another day'. And then I started writing and after an hour or so I was in another place and life was quite OK."
Fosse's unexpected journey to becoming one of the most successful living playwrights in the world began when he accidentally stumbled upon a chance invitation in the early 1990s. Despite not having a strong interest in theater, he decided to write his first play, Someone Is Going to Come. This experience was a revelation for him as he had previously disliked the medium. As a student, he had read numerous plays but had rarely attended any productions. He only found two productions, Lars Norén's The Last Supper and Beckett's Rockaby, worth seeing. Fosse recalls that most of the productions he did see were uninteresting and the audience was merely trying to conform to societal norms.
Fosse's dramas appear to intentionally unsettle traditional theatergoers by delving into cryptic themes and lack of conventional plot (he scornfully acknowledges that his works have been labeled "post-dramatic"). His characters are occasionally given names, but are more commonly referred to as "The One," "The Other," "The Woman," "The Boy," and "The Older Man." While there are moments of humor, the overall tone leans towards anxiety, confinement, and sexual jealousy as the characters struggle to connect. Playwriting allowed Fosse to utilize silence in a way that was not possible in prose. He explains, "I could use the word 'pause' frequently, and have characters break off their speech, in order to convey a second language of silence behind the spoken words." He recognizes that whenever he experiences this sensation, he knows he is writing effectively.
He quickly achieved success in the theatre world in Norway, but it wasn't until Claude Régy's 1999 production of Someone Is Going to Come in Paris that Fosse truly became one of the most sought-after playwrights in the world. He recalls this as the best production of one of his plays that he has ever seen. As a result, he spent much of his time writing for the theatre and travelling to attend productions and give interviews, almost like a theatre "celebrity." He still reflects on the experience with a sense of bewilderment.
The reception of Fosse's plays in the UK is often characterized by bemusement and sometimes even outright hostility. Some have described his work as "opaque" or "adolescent twaddle" and have compared it to "Waiting for Godot" without the humor. English playwright Simon Stephens, who translated Fosse's play "I Am the Wind" in 2008, mentioned that when it premiered at the Young Vic in 2011, Fosse felt disliked. Fosse himself has commented on the negative reception of his plays in the UK, saying, "Yeah, I was very hated, and it was strange to me because my plays were well-received in most other countries. But in the UK, it was always terrible – just doom and gloom, 'zero points for Norway'."
Fosse notes that American critics were more favorable, but he wants to emphasize that he had some successful productions in New York. He mentions that the reviews from the New York Times are still available online if one wishes to read them. It's endearing to have a Nobel laureate encourage others to look up positive reviews of their plays from years ago. This may demonstrate how perplexed Fosse still is by the generally cool reception his work has received in the English-speaking theatre community.
However, despite being celebrated, as he was in most other places, it became exhausting for him. "Eventually, I became very weary of it all. I was consuming excessive amounts of alcohol. I was writing excessively. It was all just too much." He came to the realization that he had exhausted his potential as a playwright and made the decision to "return to writing poetry and prose in my homeland."
In 2012, Fosse suffered a collapse due to excessive drinking, which had caused him to stop eating. He believed that alcohol had aided in his performance as a theatre star, despite being a shy and private person. He does not regret his past drinking habits, but after leaving the hospital, he quit drinking and claims to not miss it. Fosse compares writing to drinking, as both allow him to escape his normal self and become someone different. He sees writing as a way to rid himself of his true self, rather than a form of self-expression.
It has not been easy to move on from drama. After dedicating himself to translating plays for a few years, including a Norwegian version of Simon Stephens's adaptation of The Curious Incident of the Dog in the Night-Time, the author has returned to writing plays in a smaller capacity. His latest novella, A Shining, is actually a prose version of his new play, In the Black Forest, which premiered in Oslo in September. While this work is brief and haunting, it may not be the best introduction to Fosse's writing. Interestingly, Fosse was awarded the Nobel Prize shortly after publishing his masterpiece, Septology, an 825-page novel written in a single sentence. Though it may seem daunting, Fosse's skillful use of rhythm and the emotional depth he brings to his characters quickly draws the reader into the story. It is a truly unique literary experience.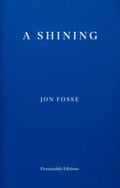 Fosse started working on his book series "Septology" in 2012, but made slow progress. He stated, "For me, writing is like exploring the unknown. You have to detach from yourself in a sense. It can be frightening to do so if you are vulnerable. That's why it took me several years before I felt brave enough to resume writing."
Similar to many of Fosse's creations, this tale follows an older painter named Asle as he carries out his daily routines in the countryside of Norway. However, he is constantly haunted by memories of the past and ponders on the concept of divinity. As seen in his previous works such as Dream of Autumn and Melancholy, time is portrayed in multiple layers, causing a confusing and overwhelming effect. While driving, Asle catches a glimpse of a couple walking together – a younger version of himself and his deceased wife, Ales. This memory is so vivid that Asle becomes concerned his younger self may catch him observing them.
Fosse combines elements of everyday life, such as preparing meals, getting ready for bed, and taking care of a pet, with elements of the mystical. In his Septology, there are two characters named Asle who are doubles of each other, from whom Fosse draws inspiration from his own personal experiences. One Asle, who serves as the narrator of the novel, marries a Catholic, converts to Catholicism, and eventually gives up drinking. The other Asle is an alcoholic and is found collapsed in the snow early on in the story. One Asle has no children, while the other has three children with two different women. In contrast, Fosse himself has six children from three marriages. His oldest children are now adults, while his youngest has not yet started school.
Asle resides in the rural area surrounding Bergen, where Fosse owns two pieces of land. (Fosse also possesses an apartment in Austria, but he and his spouse primarily reside in a government-owned residence located within the public grounds of Oslo's Royal Palace.)
Even though Asle shares physical characteristics with his creator, such as grey hair in a ponytail and a visible bald spot, as well as a love for scarves, Fosse is not interested in autofiction. He had experimented with it before it became a popular concept, but his ambition with Scenes from a Childhood was to write an exact depiction of reality. However, the story took on a life of its own and became something different. Fosse had to accept this change, recognizing that simply summarizing real events does not make for good literature. He believes that literature should go beyond the mundane and be larger than life.
Fosse's expansiveness is rooted in a surprisingly limited source. Similar to influential figures like Beckett, Thomas Bernhard, and Georg Trakl, Fosse constantly revisits a small pool of elements: fjords, row boats, rain, siblings, and music. However, despite these sparse materials, he consistently creates something unique. Asle, the protagonist in Septology, notes that the artists he admires often paint the same pictures repeatedly, but each one is distinct yet also reminiscent of the others.
As I exit Fosse, I take more photos. However, on my way out of the lobby, I spot a collection of posters featuring illustrations of Norwegian playwrights. Intrigued, I purchase one depicting Fosse and request his signature. As he signs it, he remarks, "They didn't ask for my permission to create this poster. I noticed it during my visit for the opening night." He returns my pen and adds with a mischievous grin, "So I took one." With a wave, he continues on through the line of barren trees and into the rainy weather.
Source: theguardian.com