I'm a Celebrity … Get Me Out of Here! review – it is clearly going to be a cakewalk for Nigel Farage
I
It is absurd to believe that the TV show "I'm a Celebrity … Get Me Out of Here!" was ever a quality program. This show is a remnant of the unpleasant 2000s era, a dark spectacle that has thrived on degrading and exploiting both humans and animals (with over 17,000 complaints made last year alone). It can be compared to the medieval punishment of being put in the stocks, but the excitement is dampened by the understanding that the participants are being compensated with thousands of pounds for enduring such treatment. This show has always been terrible.
It's tempting to reminisce about the past when I'm a Celebrity was a simpler show, but now that Nigel Farage is a part of it, it's hard to ignore his unappealing presence. Despite the show's questionable tactics and emotional manipulation, at least it didn't feature Farage's unpleasant facial expressions and leering behavior.
However, things have changed now. Nigel Farage, wearing his finest union jack socks, was placed in the heart of the Australian outback. He was pleasantly surprised by how easy it seemed like it was going to be. Unlike last year, where Matt Hancock faced hostility from his fellow campmates, Farage was warmly welcomed by the first contestant he encountered – Josie Gibson, who is a presenter on This Morning. She jokingly remarked that it couldn't be worse than Brexit while introducing him to their first challenge. The second contestant, 26-year-old YouTuber Nella Rose, was too focused on projecting her public persona to even realize who she was interacting with.
Farage was not going to be thoroughly questioned by the hosts. Ant and Dec asked if he went too far to the right after showing a clip of him driving, which amused the audience who are paid to laugh. When he finally met all the campmates, he was greeted with even more hugs and smiles. One of them even commended him, saying "Fair play, mate." Hopefully, one of these campmates will challenge him like Charlene White did last time. However, based on his arrival and the detailed discussion about the show First Dates, it seems like it will be easy for him.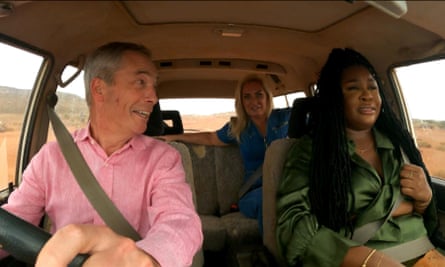 Farage demonstrated his determination by taking on his first challenge – placing his head in a box of snakes. He approached the task with composure, unlike the YouTuber who relied on screaming. This approach would not have been effective for Farage, as he was aware of the challenges he had agreed to face. He completed the task, maintaining a positive attitude despite feeling disgusted, hoping to portray himself in a positive light. It is concerning that we now rely on entertainment to rehabilitate individuals. This show has become a dark and cynical display.
Matt Hancock is to blame for this, obviously. Last year's big draw, Hancock – a man whose mishandling of care homes during the pandemic cost 20,000 lives – proved that nothing can redeem the irredeemable like being paid to eat kangaroo arse on the telly. At first, the public rushed to punish him by making him undergo endless bushtucker trials. But by the end of it, some quarters were declaring him to be an OK guy. And now he's going to be best known as being Nigel Farage's warmup guy.
The program is not attempting to hide the fact that it revolves around Nigel Farage and a group of mediocre individuals. In the first episode, some contestants had to balance on a pole on a tall building while Fred from First Dates complained about his testicles. Others had ants poured on them. However, they are merely there to support the main focus of the show, which is the xenophobic Nigel Farage. It would be foolish to deny this.
There is speculation that the decision to hire Farage may have negative consequences. Last year, even with Hancock's involvement, Twitter was buzzing with discussions about "I'm a Celebrity." However, this year, there has been silence. No tweets, no excitement, and surprisingly, no anger. People seem to have accepted that they will not be watching the show this year. We will have a better understanding of how widespread this sentiment is when the viewership ratings are released. We can only hope that Farage's involvement has turned people away from the show. If not, we might have to endure Boris Johnson's appearance next year. To be honest, I am exhausted by all of this.
The show "I'm a Celebrity… Get Me Out of Here!" airs on ITV1 and ITVX.
Source: theguardian.com