Dad's Army: The Animations review – excellent lost episodes complete the comedy's canon
W
The end of 2023 has been a busy period for fans of British comedy. Recently, ITVX surprised the avid viewers by releasing all episodes of Terry Jones and Michael Palin's Complete and Utter History of Britain, including four previously unseen since 1969. And now, on Gold, we have another treat for comedy enthusiasts with Dad's Army: The Animations, a charming adaptation.
During the spring of 1969, three episodes from the second season of the beloved sitcom by Jimmy Perry and David Croft were shown on BBC One. However, due to the common practice of wiping master tapes to record new material, these episodes were lost and no backup film has been found. Fortunately, audio recordings of these episodes still exist. In 2016, one of the missing episodes, "A Stripe for Frazer," was recreated using animated visuals and a sound recording from an amateur archivist. While the other two missing episodes were not recorded by this archivist, a viable alternative was found in the form of a 1974 Radio 4 adaptation featuring most of the original cast. The same animation team has now used the audio from the radio show and combined it with new vocal performances to create a reconstructed version that closely follows the original TV scripts. These final two pieces of the puzzle have been successfully added in, to the best of anyone's ability.
The first thing that stands out is the quality of the portraits. The artists stick to black and white, just like the original, and use simple line drawings to accurately portray Arthur Lowe's use of his jowls and eyebrows to amplify Captain Mainwaring's pompous behavior. They effectively capture the delicate balance that John Le Mesurier portrayed as Sergeant Wilson, appearing both confused and knowingly amused. Private Frazer's sunken gaze and Lance Corporal Jones's fussy squint are also accurately depicted.
It is inevitable that there are spaces that the audience's mind must complete. As is typical in animated series, non-speaking characters have minimal actions – therefore, it is not possible to replicate one of the most gratifying moments of the show, when Mainwaring realizes too late that Wilson has just insulted him.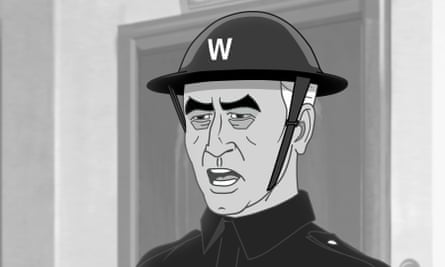 Fortunately, the first of the two new episodes of the cartoon, titled "The Loneliness of the Long Distance Walker," offers enough humorous dialogue to make up for the limited reactions. It opens with Private Joe Walker – portrayed by James Beck in the TV show but expertly impersonated by David Benson here – delivering the disastrous news that he is leaving the Walmington-on-Sea Home Guard to join the proper army. This jeopardizes the men's supply of black-market goods. There is a touching moment where Private Godfrey (played by Arnold Ridley) laments about not receiving any whisky, gin, or cigarettes, only to reveal that he is actually receiving a box of fudge for his sister.
Mainwaring sends a firm and slightly confusing message to the War Office, but then goes in person to make his case. This leads to a very well-planned and entertaining scene, reminiscent of Abbott and Costello's famous "Who's on first?" routine. There is a hilariously unlikely misunderstanding, typical of the cleverness of top comedy writers. The Brigadier, who has the authority to excuse Walker, is actually looking for people to participate in a long-distance walking competition. He mistakenly believes that Mainwaring is offering him "a walker". Mainwaring's attempts to clarify that the man's name is J Walker, not "A Walker", are unsuccessful.
Despite facing challenges, Mainwaring discovers a local program designed to assist self-employed men who would suffer financially if they were to leave their businesses. He learns that there is a committee that can be approached for help, so he volunteers to represent Walker. As the Captain fumbles and stumbles through his speech, he is further thrown off by the fact that the committee chairperson is a woman and one of the panel members is Sergeant Wilson. This results in a typical instance of Mainwaring's mangled oratory, although it is unfortunate that we cannot witness his expression as Wilson delivers a cutting remark. "I have no doubt that Mr. Mainwaring does not intend to insult the intelligence of the tribunal," remarks the sergeant, his cheek resting wearily on his hand. "It's just that when one talks as much as Mr. Mainwaring does, it is inevitable that some of what he says will be unnecessary."
Antique phrases like this embellish a strong installment, poking fun at the nosy officials who thrived during the war. Thus, through a resourceful and adaptive approach that fits the subject matter, the entire collection of Dad's Army – a nostalgic connection to TV's bygone era – is finished.
The animated version of Dad's Army was broadcasted on Gold and can be accessed on Sky, NowTV, Virgin, and TalkTalk.
Source: theguardian.com