and we cannot wait to see the drama unfold Tonight on TV, the highly entertaining reality show Survivor returns and we are eagerly anticipating the unfolding drama.
Survivor 8.25pm, BBC One
Actor and comedian Joel Dommett hosts a new version of a popular reality TV show. 18 participants are sent to a stunning yet challenging tropical island where they are split into teams and must face physical, mental, and strategic challenges in hopes of winning £100k. As the competition unfolds, viewers can witness the formation of alliances and conflicts, as well as some questionable choices like trash-talking strangers and bossing around teammates. Phil Harrison provides commentary on this exciting journey.
Strictly Come Dancing
6.40pm, BBC One
Unfortunately, Amanda Abbington will not be receiving any treats this Halloween as she had to withdraw due to medical reasons. However, the Halloween special will still continue and it will feature exciting dancefloor performances, including Angela Rippon doing a charleston to the theme tune of Murder, She Wrote. This update was shared by Ellen E Jones.
Julia Bradbury's Irish Journey
8.25pm, Channel 4
Bradbury relaxing in a tub filled with slippery sea plants may resemble a segment on a charity fundraiser. However, this marks the conclusion of the Dublin-born host's travel documentary as she sets off on a journey through Northern Ireland. In addition to enthusiastically participating in boating and surfing, she delves into the intricate past of Derry. Graeme Virtue
Dark Hearts
9pm, BBC Four
This week, time is crucial as the French military situation unfolds. The team must retrieve Zaid and transport him to Paris, but will the Iraqi locals permit it? In another location, Hilaire is tasked with locating a doctor from Argentina who left an NGO in strange circumstances. PH
Stephen King's works have been adapted for the screen numerous times, including popular films like "The Shawshank Redemption" and "The Shining".
Stephen King's literary works have been transformed into visual media on numerous occasions, with notable examples being the highly acclaimed movies "The Shawshank Redemption" and "The Shining".
9pm, Sky Arts
The author's response to screen adaptations may be unpredictable, but Stephen King's extensive collection of works is a rich source of inspiration for horror filmmakers. In interviews, Mike Flanagan and Frank Darabont, who have successfully brought King's stories to life on screen, share their insights.
were a series of exhibitions in the late 19th and early 20th centuries where Africans and other indigenous peoples were put on display for the entertainment of European and American audiences.
The Human Zoos of Britain occurred during the late 19th and early 20th centuries, showcasing Africans and other indigenous individuals for the amusement of European and American spectators.
9.25pm, Channel 4
ras
This film, both captivating and troubling, features author Nadifa Mohamed as she leads us through the disturbing world of human exhibitions. These were traveling shows that displayed African and Asian individuals as exotic curiosities for the entertainment of white British audiences, a practice that continued until the 1950s. Utterly shocking.
Film choice
Pain Hustlers, Netflix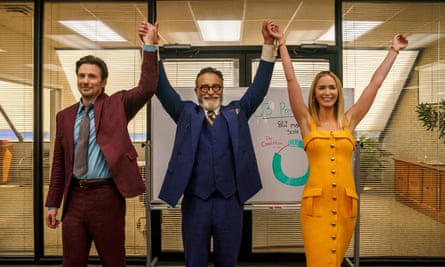 There is a lot of buzz surrounding the exposure and criticism of Big Pharma's involvement in the opioid epidemic in the book "Painkiller, All the Beauty and the Bloodshed." This new story, which claims to be based on true events, takes a bold approach by incorporating a "Wolf of Wall Street" style comedy of excess. The protagonist, Liza, a struggling single mother played by Emily Blunt, unexpectedly becomes skilled at promoting a cancer drug containing fentanyl while working for Chris Evans' aggressive sales representative character. As the money starts pouring in, Liza begins to question the legality of the company's operations, and Blunt delivers a powerful performance as her character shifts from partying to feeling remorseful. Simon Wardell's work has sparked conversations about the pharmaceutical industry and its impact on addiction.
The movie "Under the Skin" will be airing on Film4 at 1:40am.
ithout a confirmed UK release date for Jonathan Glazer's highly praised film The Zone of Interest, we'll have to settle for his outstanding 2013 science fiction thriller. The film follows a detached Scarlett Johansson as an extraterrestrial who roams the streets of Glasgow in a white van, seducing men only to carry out unsettlingly gruesome acts on them. The tense score by Mica Levi and the movie's pseudo-documentary style (leaving the audience to wonder if the men are real or not) contribute to the overall discomfort as the alien's newfound empathy jeopardizes her mysterious mission.
Live sport
The Premier League match between Chelsea and Brentford will be aired on TNT Sports 1 at 11am. The Wolves versus Newcastle game will be broadcasted on Sky Sports Main Event at 5pm.
England will face Tonga in the second Test at John Smith's Stadium in Huddersfield, with Jack Welsby serving as the stand-in captain. The match will be televised at 2pm on BBC One.
The Premiership Rugby Union matchup between Bath Rugby and Leicester Tigers will take place at 3pm on TNT Sports 1 at the Recreation Ground. On Sunday, Newcastle Falcons will face off against Northampton Saints at 2.30pm.
The Rugby Union World Cup final between New Zealand and South Africa will take place at 7pm on ITV1 at Stade de France in Paris.
Source: theguardian.com